New Patent by First Texas Products – a fresh brief of Pulse Induction technology?
Do you know, that there are only two technologies in metal detecting – "Pulse Induction" (PI) and "Very Low Frequency" (VLF). Also Minelab has it own FBS and FBS2, but I don't know how it works and is it an independent technology or just an improvement of VLF? PI is good for high mineralized grounds and many underwater detectors are working on this technology, VLF is common for almost 80% of ground metal detectors, which you are probably using.
I was looking for one patent by Whites Electronics, but found this and this is pretty fresh, new patent by First Texas Products for improved PI technology: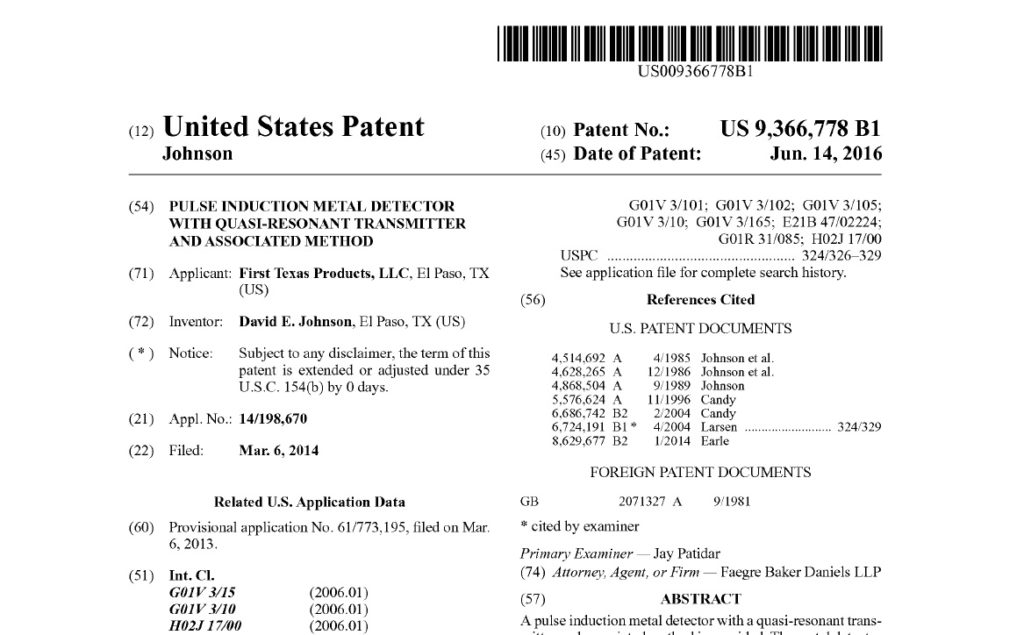 As we see – David E. Johnson, engineer of First Texas Products (1st Texas has 3 main brands: Bounty Hunter, FisherLabs and Teknetics, every brand has a good detectors in product line and for every purposes) invented a further improvement of Pulse Induction technology, which probably will lead to the new line of detectors – would it be deep detectors, underwater or ground ones for beginners? Will see!
But if you want to read a full document – just click on a picture or click here to read a full document.
I hope coming soon we will see new detectors which will help us to get more cool finds, guys!
Happy Hunting and don't forget to check all news – I'm posting and I will post all news here and only here.