Teknetics G2 + – Review of the detector, tuning tips, and how to look for, and find gold!
Recently a fellow detectorist got himself the Teknetics T2. A good detector, I hope that someday I will find it among my friends who live nearby and with whom you can go digging and create an interesting overview of this detector and write all the secrets. I hope it will be soon. I already wrote about the benefits of the Teknetics compared to the X-Terra 705. However, in my hands I have another detector, also a Teknetics but not T2 but the G2 +. The new detector from 2015, very fresh, fast and has many bonuses. So, let's begin!
Where to buy Teknetics G2+ with discount by promo code for TekDirect?
Teknetics launched it's own eCommerce store to sell Teknetics detectors, pinpointers and accessories. You can find it here – TekneticsDirect. And to get a more than $50 discount + FREE ground shipping just apply promo code: A1479! Happy Hunting with new Teknetics detectors!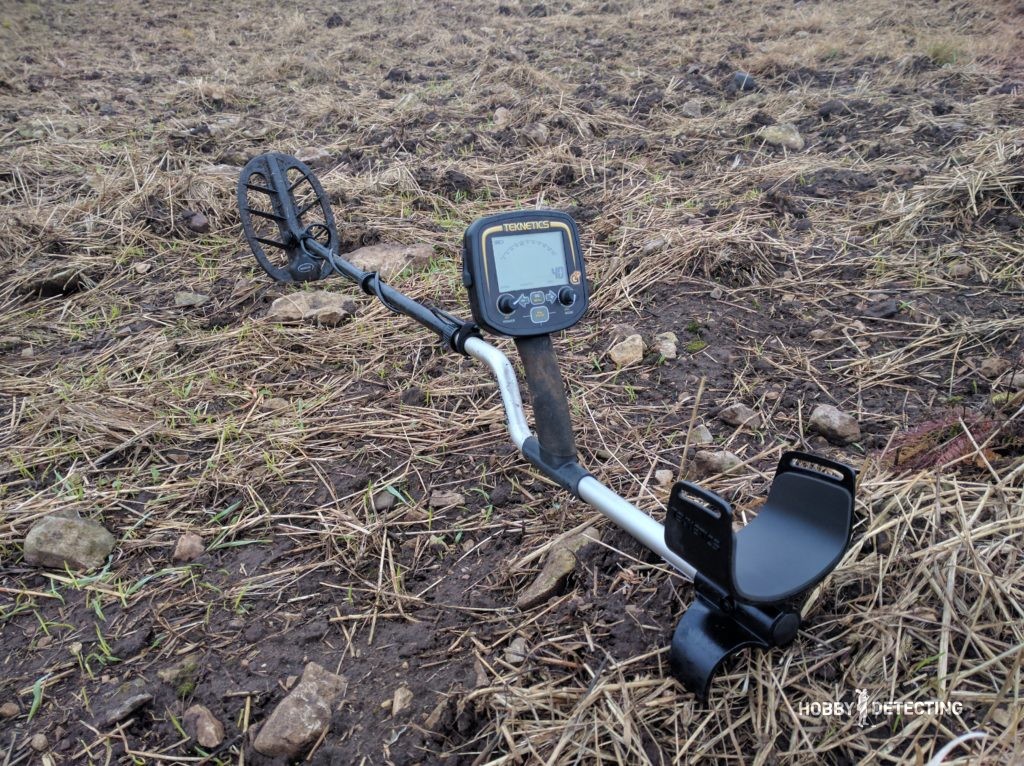 Link to Teknetics G2+ metal detector is here: TekDirect link to G2+.
Why are the Teknetics detectors interesting for diggers?
I pondered this question several times. In principle, this applies to all metal detectors of this manufacturer:
The detectors from Teknetics are very light. I've never seen a detector that would weigh more than 1.3 kg. Weight = affects your abilities to dig harder and longer, which gives a larger number of finds.
They often have a Simple menu. They do not need much to set up and constantly wonder whether the correct setting is chosen or not. The metal detector itself is very simple to setup and use.
Perfect balance. For metal detectors to be small and light, it is necessary to have the right balance of weight. Thus, detecting will be much easier and you will have more strength to dig finds.
Quality. In general, they have good quality. There are problems, as with all electronics, but they can be solved quickly. At least in my experience.
Search characteristics. Yes, when the metal detector is a lot of pros, and somewhere there must be some cons. I will be discussing them later. But how about the depth? It is not too deep, forcing you to dig trenches, but you do not miss the interesting finds. The main thing – identifying of the object at maximum depth. There Teknetics are among the leaders. And it's important for me – have you seen how some other detectors reject good signal at the maximum depth? Teknetics gives a greater assurance that the silver coin will be displayed correctly on a sound. That's the main thing.
And one of the most important qualities for me – operation speed. It gives a signal and immediately shows the VDI – now that's Teknetics!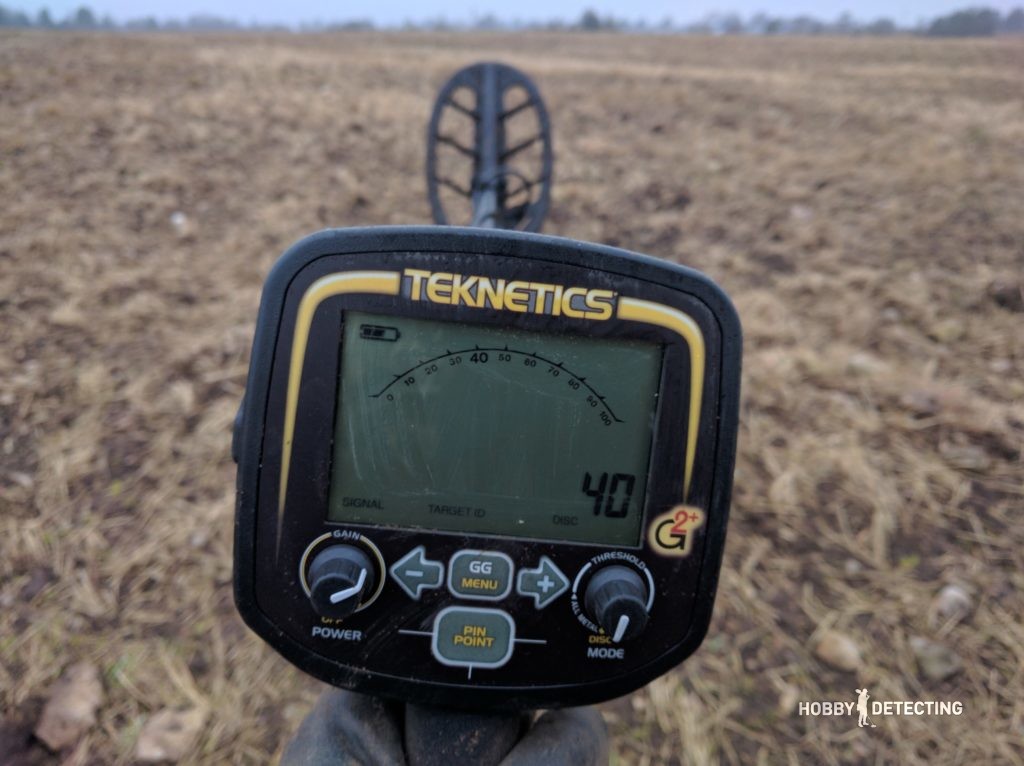 Packaging and assembly of metal detector
The assembly of the detector is simple, you will not need any screwdrivers, that is a big plus in the beginning. I have already a post about Teknetics G2+ kit and what comes in a package. Sometimes I lose bolts and screws during assembly, it happens. The detector is desirable to collect quickly while detecting. On the G2 + this is not a problem. It consists of three parts. It is assembled and placed in the backpack easily (in a backpack Bundeswehr 65 liters, for example). The detector is powered by a single 9V battery. You can forget about buying in-store batteries, you will just need to charge all the time and you will be happy.

Detecting with the metal detector and finds
The detector is excellent at finding small coins. I will already advise to use it for detecting the old days, to find old crosses, ornaments, various household items and buttons, but also a great option is to go with it on the beach. The frequency is 19 kHz, at this rate you can find gold chains on the beach. Maybe mostly shallow ones, but most detectors with a smaller frequency don't see them at all. A good chain, especially gold, is already good money. So, during the season you can several times manage to pay back the detector, especially when you have a beach with a lot of finds.
As soon as people begin to sunbathe, I immediately will come late at night or early in the morning, while everyone is asleep and do not see me. And it is not so hot. I find a lot after each plowing, I decided to run through it a second time in a month and took with me the Teknetics G2 +. The finds that were found in this time: 2 Swedish copper coins (century XVII), a pair of vintage buttons, and what is most interesting – found a very old woman's jewelry, which is more than 1000 years old! It's a small needle with a loop on the thread that binds with different decorations. Such needles were used on casual clothes. Very interesting, but a thousand years ago, people were doing just that.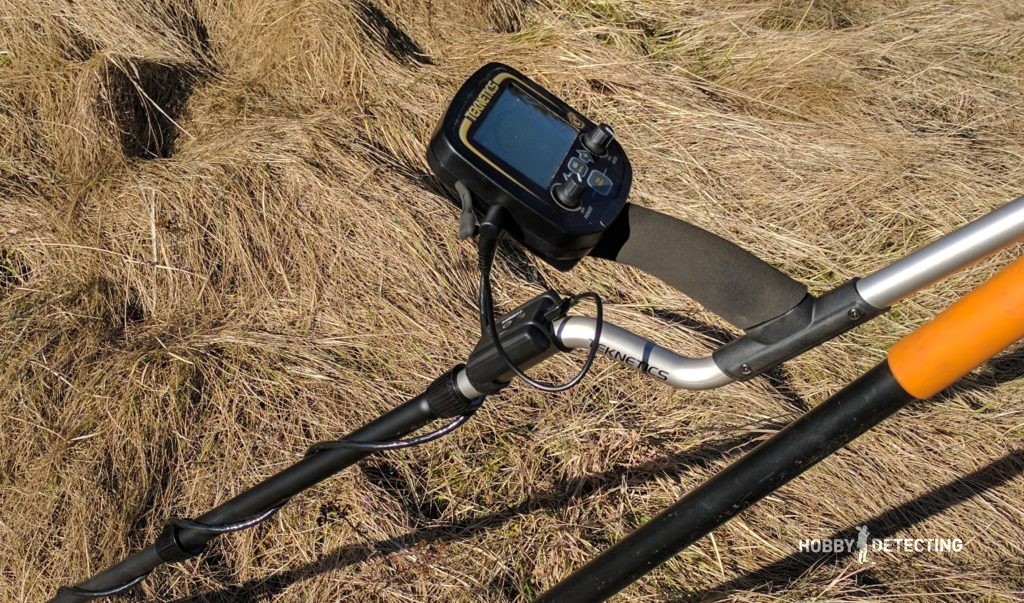 I wrote recently about the Garrett Z-Lynk, paired with Teknetics G2 +. It works fine – no audio delay. Now it is my constant kit for detecting. Now I will wait for new trips, because in the fields there are still many lost small things like small medieval silver, different crosses, belts and other decorations.
How to configure the detector Teknetics G2 +?
The sense is adjusted very easily. On the detector, there is also a volume setting. I use the following settings: Discrimination levels – 0, V-Break – 35, sensitivity 85-95, Notch – 0, the volume is generally 15-20. But why so?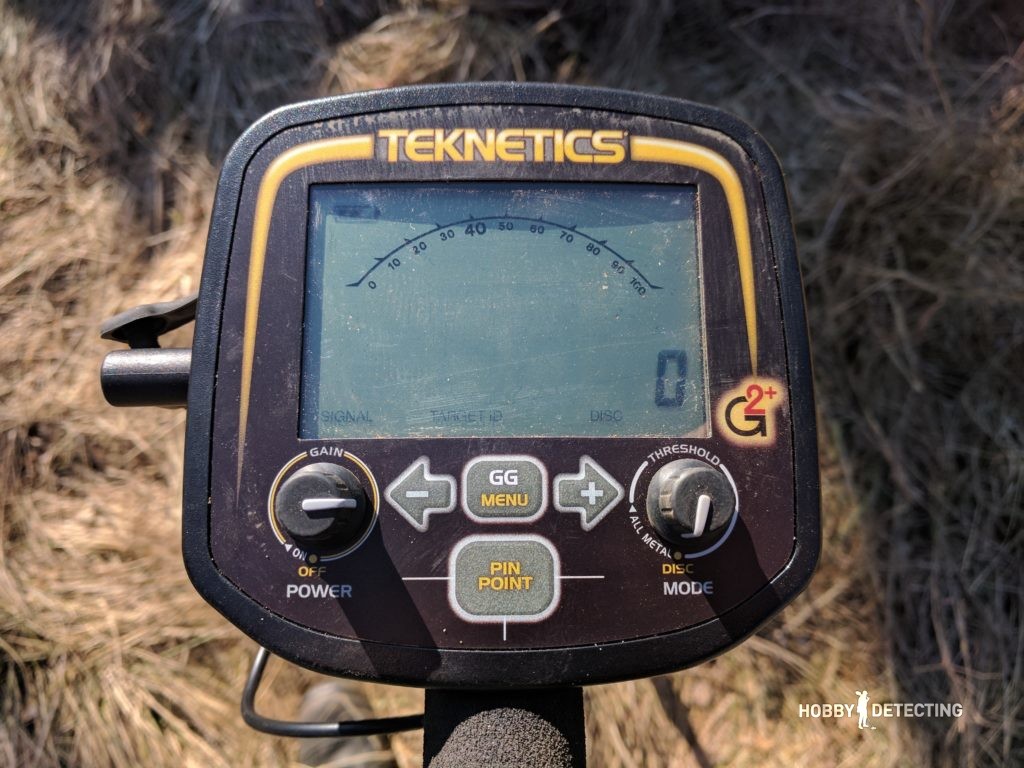 On discrimination 0 we find all metals. This gives us increased depth, and all the signals we hear clearly. Of course, if you dig a lot of trash, then you can put on disc and cut out unnecessary signals, but for detecting in the field or on the beach, I always go at 0 discrimination.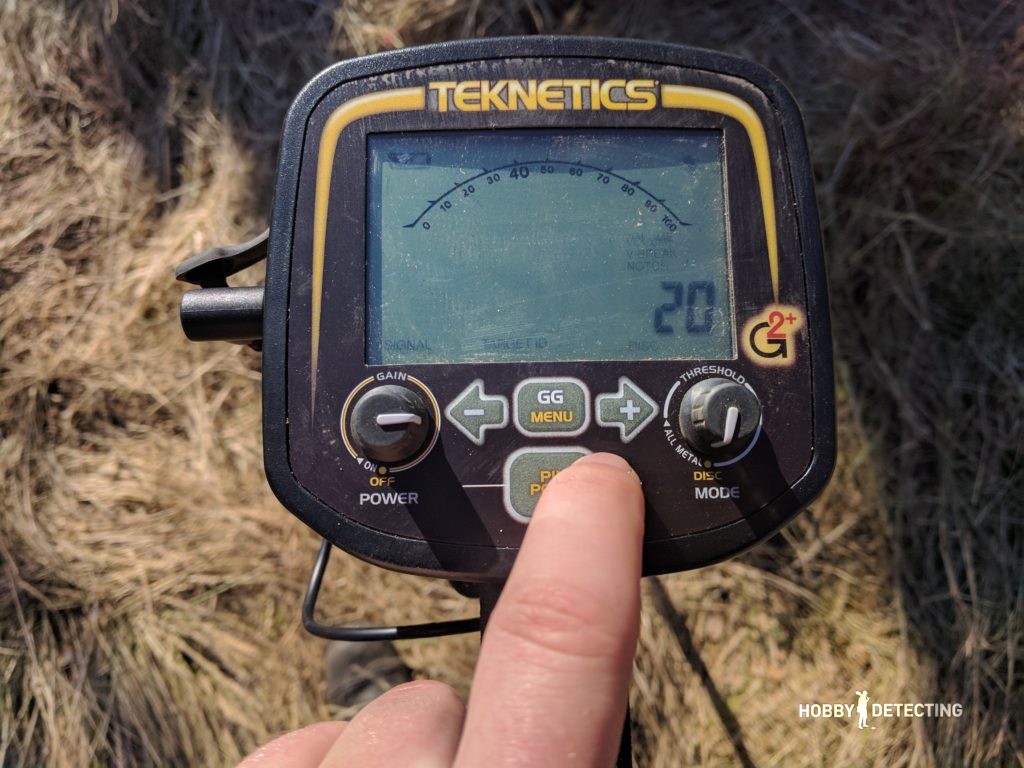 On the headphones, I put the volume to maximum, at 20, and then only adjust the depth. So I can just pick up the sound when the signal is weak and barely audible to catch it and make a decision – whether or not to dig.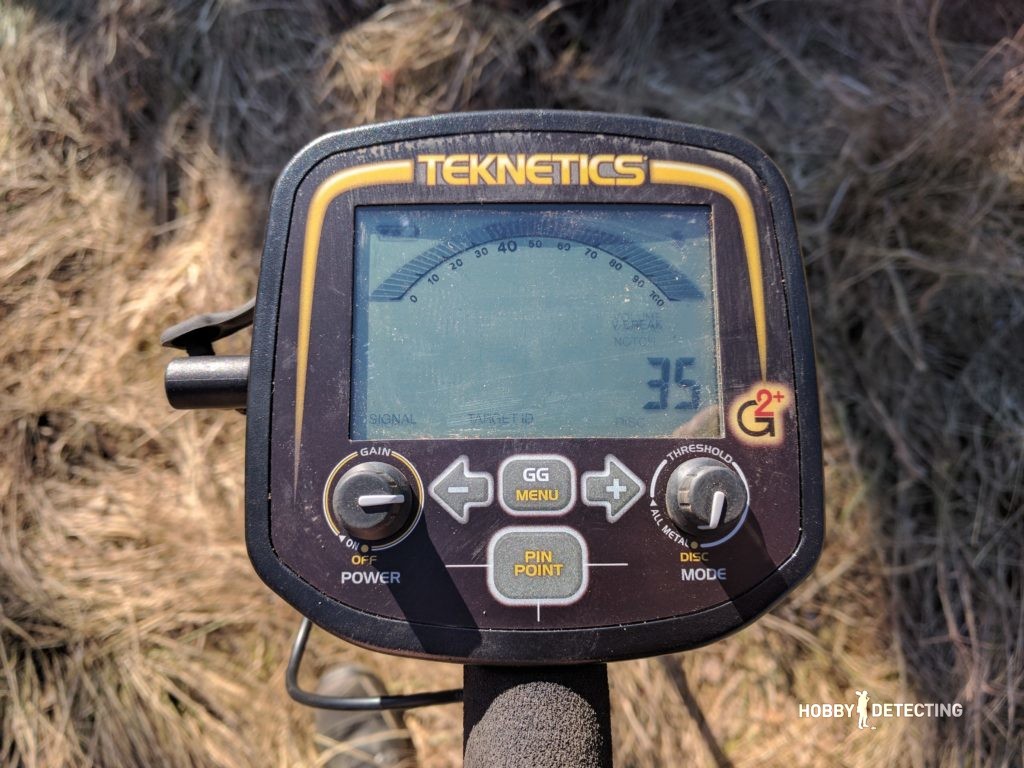 V-Break at 35. Why? It's simple – gold is a hard to catch metal, and even though this detector shows up to level 40 ferrous metals, and more than 40 color metals, I lower the tone to the level of 35, because it is better to find gold than to pass by it on discrimination or simply too lazy to dig once and lose the best find of your life.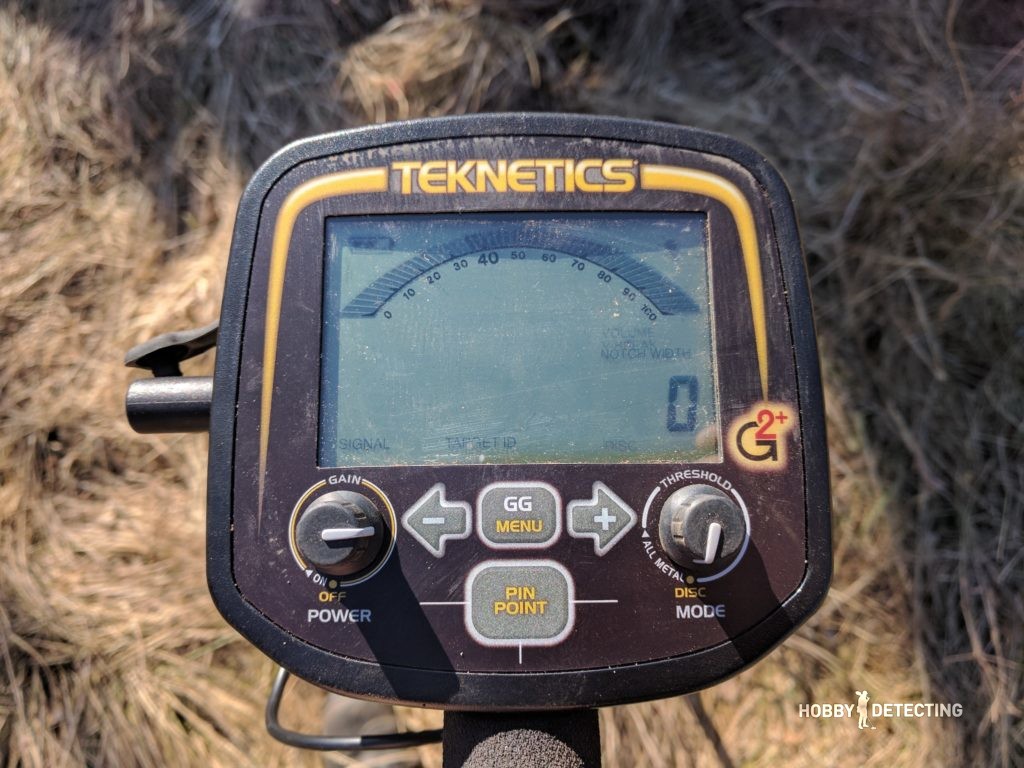 Notch. Do not cut it, set it to 0. Any signal in a field where there are few signals that are interesting, can bring interesting finds.
Sensitivity, if the grass does not stop you, and the detector does not give false signals, I put on a high level – above 90. Most of all 96 or 99. With these settings I do not miss vintage finds.
Disadvantages
Actually, there is one drawback, which concerns at the moment many Teknetics detectors – the coil bolt. Sometimes, if you do not watch it, you can lose it. I lost my once, and during one of the other trips, I found the bolt directly in the pit I dug. I checked again and saw a bolt. It happens. As for the rest, a little intricate ground balance setting – it is necessary to switch from Threshold mode, and only then start to Ground Grab (Ground Balance) and when finished set the DISC MODE. But you will get used to it quickly.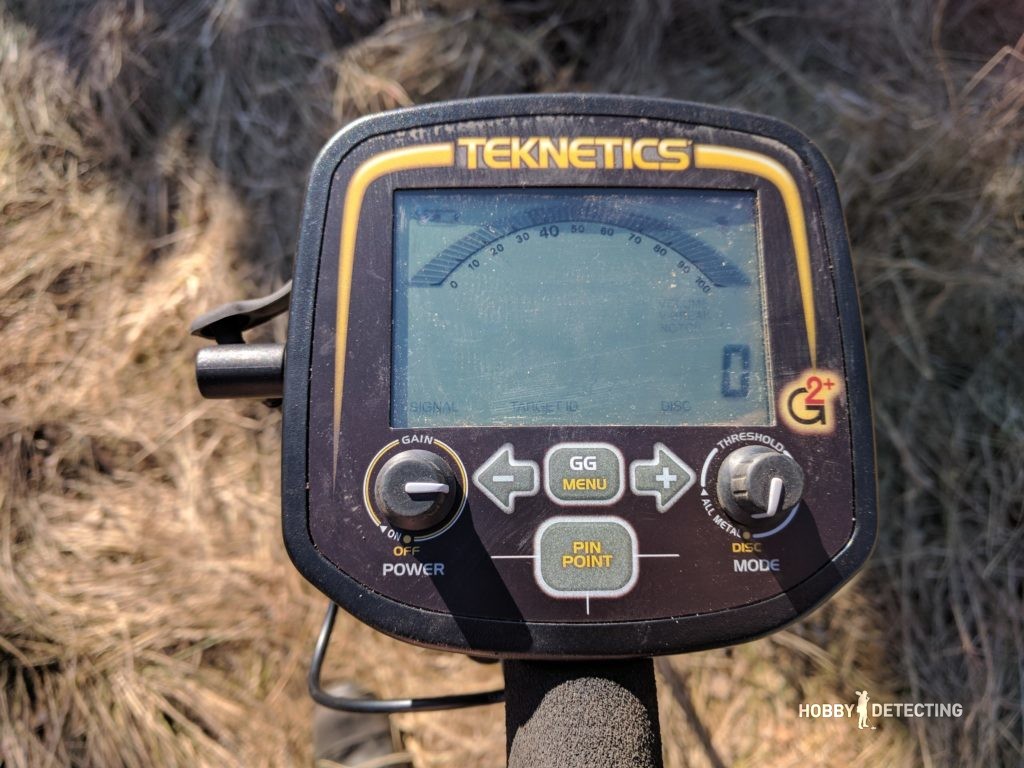 Result
My result – the detector is worth the money. Yes, it is not for the ordinary relic detecting, for example, it is a detector which allows you to get more finds from the fields, where several hundred times there have already passed other friends with their detectors. Most detectors will still have a frequency of 7 kHz – 14 kHz. Here we have 19 kHz. Of course, your friends will soon catch up with the new coil for Deus at 55 kHz, but until that time comes we have a chance to collect the finds with the Teknetics G2 +. The detector is recommended, it works fast and once again it is not too hard to understand, and this is important!
Like the review? Looking for a detector yourself? All the reviews we gather here!