Diggin' WW2 with the Makro Racer 2 (photos+)
After I bought the brand new Makro Racer 2, during a very short time (less than a season, the unit was released in 2016!) it became the metal detector for all my needs. Even though I haven't gotten down to the beach with it yet, I have dug a lot of coins from the Russian Empire. But recently I went to a place where there were some small battles in 1944. There has already been done quite a lot of interesting findings in this area. I took my Macro Racer 2, and here's what happened:
The first hour i walked on an already "dug-out" landscape, and found some different shell casings (and from time to time i found some rather interesting ones, whose VDI I did not recognize at once, unlike German and Soviet rifle bullets), when suddenly among the earlier dug holes (not reburied by other "fellows") I got an interesting VDI. I cannot remember exactly how the signal sounded, but it was good enough for me to check it out. The already dug holes on both sides of the signal didn't give me a whole lot of optimism, but curiosity won. I dug, and guess what appeared? A Soviet "sport qualification" badge.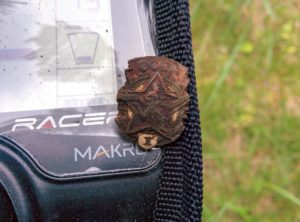 It seems to me that this is a "post-war" type badge. The "pre-war" types of this badge are slightly different. Probably some activist that went to these places after the war and lost his personal badge. (I hope he didn't "step on a mine"!) After I clean it, it will be a good addition to the collection!
But I still wanted to find something from the "WW2 era", of course. I walked further down the position, dug several metal ammunition boxes (in a not so very good condition), and put them in a pile on a stump. Let the ones who need these more than I do, take them! I dug another signal and pulled out a pre-war model cadet buckle! I wonder if it was there from 1941? If that is the case, I am not very surprised because this is such an area where there are many historical time periods mixed up!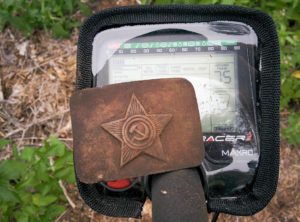 Of course when i dig, I stumble across many "post-war" items, like for example different items left by the military from the times of the USSR and its collapse. For example, this: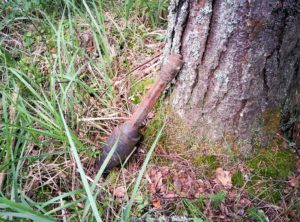 It does not look like a Panzerschreck missile, therefore, I believe that this could be a training missile for the RPG-7. Please correct me if I am wrong.
Here is how a real Panzerschreck round looks like:

However, the most fun and unexpected experience for me was another discovery. I got a good signal, and i began to dig. I started digging, and at once it became clear that this was something deep, and therfore it had to be something big. But the signal was still good. I dug deep enough to see a part of the find – my first question was: "is this a helmet or a head?". I dug in gloves, so I couldn't feel what it was. I expanded the hole, dug deeper and finally realized that I had found a German helmet. Excellent, this was the first time I found a "deep signal" helmet! Usually you find them in the trenches, or together with the soldier. Anyhow, the condition was honestly not that good, and in addition the helmet was bent.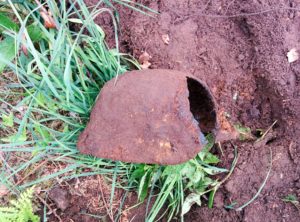 It was found the way it is, most likely someone threw it around after the war, it is doubtful that in 1944, the helmet was that far from the position, in the middle of the forest. Although, you never know.
And here is a photo from a different angle: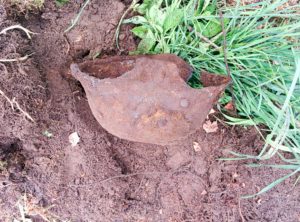 What can I add? The Racer 2 did not disappoint, it brought me finds, even though I doubted that it would be an interesting trip. I thought I would dig up some shell casings and come back again almost with nothing. But no, I still had some luck. When I got the helmet to the surface and checked it with the detector, the signal was quite different than it was under the ground.
Soon I'll go to the beach, and maybe I'll write about how it works in the saltwater sand. I think "beach detectorists" will appreciate it 😉
Everything about WW2 finds we keep here, and more posts about Makro Racer 2 you can find here