Hoards of Roman relics being found in England (+history lesson)
Am i the only one who have noticed that in the last time there has been a lot of news reports about hoards of roman coins and relics being found in England? Is it because of new and better detecting equipment or because of more people taking to this hobby? What do you think?
For example not so long ago a hoard of over 2000 roman coins and other relics including silver ones were found in Wiltshire, England.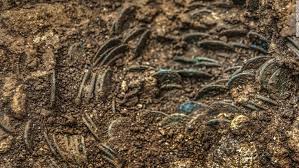 For those of you who is sitting there and thinking "how did so many roman coins end up in England?", well here is a little history lesson for you:
From AD 43 to AD 410 Great Britain was "owned" by the Roman Empire, and therefore people find so many Roman relics today in Britain. In 43 AD the Roman Emperor Claudius ordered the invasion of Britain. But it all ended when in 383, Magnus Maximus called his soldiers back from north and west Britain, and from that the Romans started slowly retreating from the rest of Britain until they were "gone" in AD 410.
I hope you learned something new, and what do you think about this?