Detecting at An Old Drinking House (Diggers Story)
Today we have received yet another interesting story about a metal detecting trip from a fellow detectorist, enjoy;)
Hello dear colleagues in the hobby and those who are just very interested in the subject. Recently I wanted to share my fascinating history with you. So, let's start the story.
I started detecting relatively recently, but I already am in love this activity with all my heart. It is not only a little adventure in every output field, the forest, the abandoned village, etc., but also a wonderful holiday for the body and soul. The opportunity to be alone with yourself, away from all the hustle. And thus realizing a childhood dream — to go on a treasure hunt, and I am sure I am not alone. When I was looking at an old map once, I found the location of an old drinking house. I carefully studied the surroundings of this house. It has a quite good location, around a distance of 1 km to 3 km there is about 8 villages. Almost all the roads are passing through the house, not by coincidence of course.
Also, there is a forest, which again is a big plus in construction, firewood, making furniture, maybe hunting, etc. In the woods there is a ravine, giving its origin from the river flowing nearby. It so happened that the river enters the ravine and water end opposite the public-house. I have compared several maps, and we came to the conclusion that the place was crowded for about 100 years, which is not very small. And finally came the long-awaited vacation!!! My heart was beating in anticipation of the upcoming adventure. The adrenaline was just rolling. I pre-planned on the modern map, and choosing an auspicious day for the weather, I began to gather my stuff, and went on the road. The path was narrow, but not close to the house, 40 km away. Upon arrival, I realized that I had a long way to walk, as what I've seen on a modern map and what I saw in front of me in reality was a huge difference. Taking everything you need for the search, I went to the intended point of the search. I knew that for the time that has passed since the existence of the public-house, things have changed and the forest increased in volume. Getting to the point I was waiting for the next disappointment — the ravine had become unrealistically huge, compared to what I saw on the maps. Well, I picked the metal detector I began to look for any signs of life. The land had densely overgrown with mold, leaves, grass, twigs and a whole layer of vegetation was also considerable. In General, for 4 hours I just wandered around the intended territory. I left with nothing (well, except for a tube and wire). I'm really desperate, but I simply did not accept that there is nothing there. I decided another trip… upon arrival, I began to act on the basis of logic, how and where it would be convenient and all that. And finally, the result was not long in coming!!! A signal, something small, but it's something.
I started digging and a crumbed ring appeared! Am I close!? I asked myself. I tried to walk through the territory, a signal, I dug, popping up an old forged nail. Swinging my coil on another signal and I dug, and there was something strange, but obviously, the work of human hands. And there popped up some shards of pottery. Happiness has no limit, although nothing significant was found. Drawing attention to the depth of the objects, about 1.5 of a bayonet. And I started digging randomly in the target area. Nothing significant appeared that day only fragments of pottery, broken bricks and rusty nails. And among this debris I also found a coin from 1853. After a while I returned to the place. Only this time, coins began to pop up more often. In the end, that was the day I found about 7 coins. Oh yeah, I almost forgot, that day I was visited by a guest, a fox, she was standing 15 meters from me and closely followed my work. I left the Fox the cookie and poured a Cup of water, and she in return took that mug))) I have not once been back to this place and each time I had more and more finds. It was coins, including a silver, it was also buttons, even a cross, nails, splinters of all sorts, etc. And by the Way, the Fox since almost constantly returned. I began to lure her, she is very emboldened, I came almost nose to nose with her. But alas, all good things must end, and with that my vacation was coming to an end, and the cold was already close (((.
There were many coins found there, about 100 of them, all from 1740 until 1921. Some coins were burnt which apparently says that there was a fire here.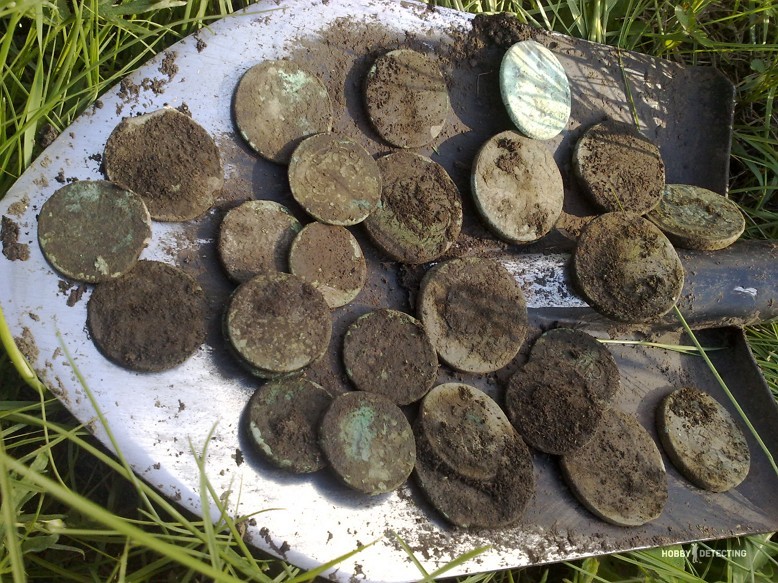 When the detecting season returns, I will definitely be back, I think it's worth it. And yet there are thoughts that do not give me rest, maybe someone will also be interesting to think of it, here's the thing: I noticed there is a hole in the ground, about 3 m in diameter and about 1 m deep in the center. I decided to dig in it, in case it was a cellar, but I found nothing, although this hole was about 2 meters in depth, because I got to the bottom. I dug another hole which was a square of 1.5 meters. At the bottom, I found a few pieces of glassware and bones. The dirt was rock hard, as if it had been bulldozed. And next to this big hole, I ran into 2 small holes about 1 m deep and wide, full of bones and various fragments, it is obvious they intentionally threw them there. And in these pits, there were also some coins. And yet for all the searching of the place, I found no Foundation or a sign of a house. In General, nothing that would point to the house itself, only the presence of people. I got the impression that this was a yard, where they threw out garbage, well, maybe the toilet, but now you can only guess. This was my story
Good luck to all of you in the next season.
Sent to us by Sergei