The sales of Garrett's wireless module Z-Lynk has started! (+ Review)

Fellow detectorists, I hasten to inform you: the sales of the new wireless module Garret Z-Lynk has already started in the United States! Soon they are expected in Europe, where dealers have collected pre-orders. MSRP of $ 150 was confirmed. Moreover, I've noticed that prices for pre-order from dealers can vary significantly – there are proposals to acquire the module for 130 dollars! ?
The set consists of the following items:
– Wireless Transmitter WT-1, attached to the device and well protected from the rain (IP 64);
– Wireless Receiver WR-1, to put it in the pocket, a little protected from rain (IP 52);
– Two Micro-USB wires for charging from the phone, computer, car, etc.
– A wire with a 1/4-inch (1/4 ") audio connector to connect the device to the transmitter;
– Strings for fixing the transmitter to the device (an example of AT PRO on top of the picture);
– Bag for the kit with our logo (just kidding).

Additionally, you can purchase a special cable with audio jack for Garrett AT PRO / GOLD. Such as in the picture below costs $ 20.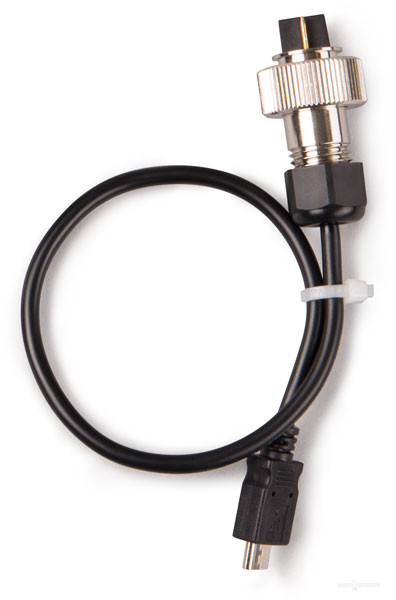 How is this different from a set of cheap Chinese devices, you may ask? Well:
1. The manufacturer assures us that the transmission rate is very high and there is no delay. The delay is equal to 17 milliseconds – that's 0,017! This is six times faster bluetooth.
2. This kit is designed specifically for metal detectors, not only for metal detectors Garrett, but should be suited to the majority represented in the market.
3. Big range of used frequencies to avoid interference from other wireless devices.
4. The charge lasts up to 30 hours. At least it doesn't die after a couple of hours?
5. If you turn on the transmitter or receiver without plugging it in, after 30 minutes, it will switch off automatic. A useful feature if it accidentally turns on in your pocket, for example.
6. Finally, the warranty on the device is 2 years. It tolerates temperatures between -20 to +60 Celsius.
At the end of my brief overview I want to once again warn you all before buying a set to carefully look at the audio ports and connectors for your detector and headphones so as not to get in trouble. Detectors often use a 3.5mm plug, for which you will need an adapter, which is not hard to acquire.
We have already pre-ordered ourselves a set, and we are looking forward to try it! In the meantime, do not forget that the well-known Minelab is rolling out its own version of the wireless module – PRO SONIC. We will write about this next time and we will surely compare it with the Z-Lynk!