Review Nokta Fors Relic. Part I. Search modes (depth test+)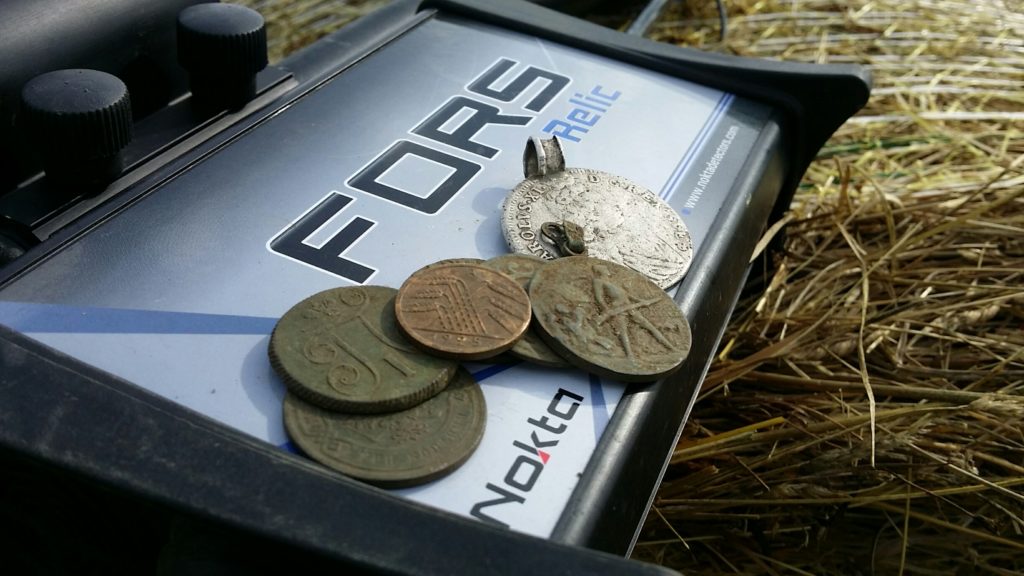 Today I am going to tell about Turkish detector Nokta Fors Relic since I've been using it already for half a year.  Let's begin with Search modes implemented in this device. There are six different ones – GEN, DI2, DI3, COG, DEP and SWT. To be honest, there is a choice to think about.
General Mode is the same as All Metals mode in some other detectors. It's actually the deepest mode used in Nokta Fors Relic detector, but it has no discrimination at all. There is one sound for all metals. Producer recommends to use automatic ground tracking option with this mode only. It can be switched on by pressing the button on the side of the processing block titled the same "GROUND TRACKING". So far while using any other mode it should be switched off. Whenever You want to pick up all and every piece of metal from the certain part of the field full of interesting finds there is a good idea to use this mode.
Main searching modes are DI2 and DI3 (2 and 3 tones discrimination respectively). Two tones mode can easily distinguish iron and all other metals. Three tones is a bit more tricky and I believe there will be separate post from me dedicated to the changes of these two modes a bit later. Nevertheless, one low grunt tone used for iron, another low tone for foil and gold(!?) and the last one for all other metals. Somehow it should simplify and improve detection silver or copper coins, for instance. I want to check it out and report later what I got in result.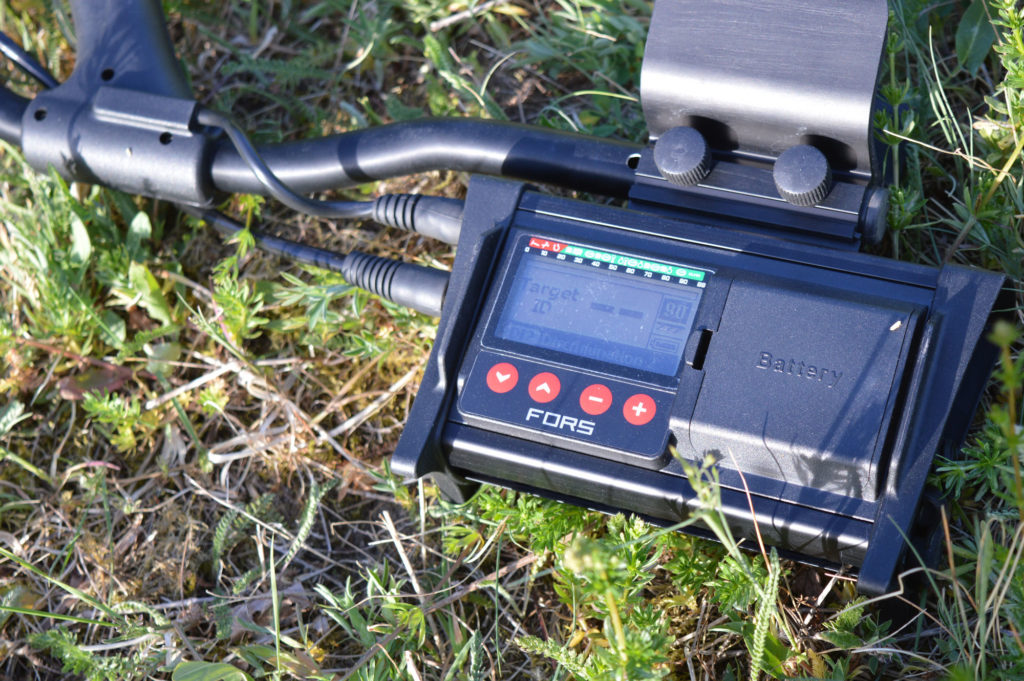 The next mode called COG and especially useful on conductive ground like wet beach sand or alkali sand. Automatic ground balancing in all other modes allow You to set a value from 40 till 90, but not with this mode. While using COG there is possibility to set it up straight from 0 till 90. It means in COG mode automatic ground balancing works everywhere. Sounds useful for searching on a beach. If You have such experience, please share it with us!
Deep mode (DEP) was recommended to use for relic hunting. It's also the deepest among the discrimination modes. Please remember to sweep slower while using it to get signal back in time.
Finally, there is also so called Swift mode (SWT). It should be good for trashy areas. Target detection will be faster, but with a bit reduced depth. In some cases might be useful for coin hunting.
Take a look on video below! There is an amazing example of depth test for Nokta Fors Relic – GEN mode with sensitivity 90 and switched on ground tracking gave an outstanding result with detecting 7 copper coins from the depth of 19 inches!
From my understanding ideal and simple mode to use is DI2 with sensitivity 85 and don't forget to make ground balancing at the beginning.
Please share Your experience of using detectors with us!
Any other information regarding Nokta Fors Relic can be found here !