How does Minelab make money on their Detectors? (facts, photos+)
I recently read on Minelab's website, and i found a lot of interesting information about the detectors and findings. And we all diggers are waiting and looking for new detectors that would bring more discoveries. And judging by all Minelab collected data, they are preparing something big and interesting!
But first things first. Firstly, I was curious to know whether the company has lost market from sales of its new products Minelab Go-Find the series. Rumor has it that the company development costs five million dollars, but the series has been very commercially a failure. Given that many people out there dig with Chinese so-called "detectors", i would prefer the Go-Find. At least it will be more interesting to dig bottle caps 😉
It turned out that everything is not as sad as it seems at first glance:

In Codan, everything is open and simple. It became clear that the income in 2015 from the sale of metal detectors was 73.3 million dollars (crazy amount), and in 2016 he had already reached 99.2 million dollars. Almost 20+ million dollars more.
Secondly, I can not leave alone the question of how Minelab has been developing new instruments. And then I found an interesting article on their website , once again it is said that the company received from the Ministry of Defence of native Australia 6 million dollars for the development of new devices for the military. Probably to develop some new technology, we can only wonder – will they make it to 2018 with a device for the military, and maybe later create a new line of metal detectors from that concept? An example of a device, which is being developed for the military: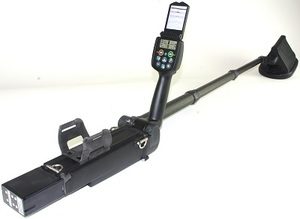 Unusual detector with a sharp screen. I wonder if the new technology is so effective and stay in a reasonable price range for diggers around the world?
Time will tell. So far, I only hear rumors about a new line of devices from Minelab, they say, that will be released in the winter-spring of 2017 year. Once again right before the new season!