Garrett Z-Lynk or Minelab PRO-SONIC: Who will be first with launching a universal wireless audio module?
Just a couple of weeks ago guys from Garrett announced new universal wireless audio module called Garrett Z-Lynk. Everybody knows that it is a future of detecting – when you have wireless devices and you don't worry about cables and all of that stuff, but one thing is to announce and another is to prepare and release it on the market. We've heard about new developings, like guys from Nokta announced Nokta Impact, but it's not released yet for over 6 months, also we had announce by XP Detectors with new update for XP Deus version 4.0 and new pinpointer MI-6, but where it is? Still doesn't released.
But now, Minelab guys will announce also new universal wireless audio module for your metal detectors and will start to compete with Garrett. And the winner will be only one – the fastest one!
UPDATE 1
Minelab have an official announce today – new universal wireless audio system is called Minelab PRO-SONIC and it has the same housing as Minelab WM X for CTX 3030, for example. It's a clever move – at least no need to invest into new press form and the cost of production will be less, so the universal system wouldn't be expencive in retail. In my opinion – nice product for detecting, because even if we have some compact solutions on market it doesn't mean that it has a fast signal transmitting ratio and quality of sound is also on a low level. I've tested one wireless systems made in China and that was total crap, one guy just bought it from AliExpress. I think that having a good quality system will make your detecting experience comfortable!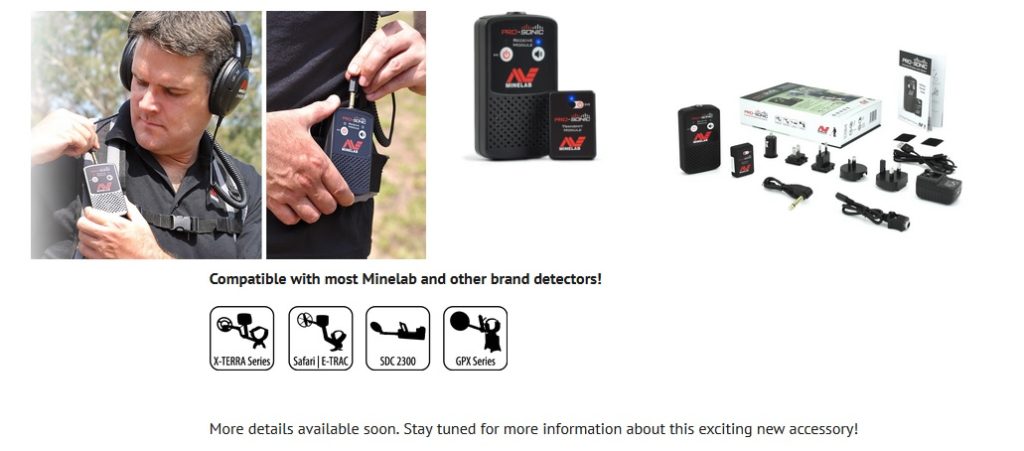 So, it works with standart 6,35 mm (1/4″) headphone socket and will have in kit everything you need like adapters for charging by AC, car or USB.  Quite universal! Also 10 m/ 32-feet detecting range is quite enough for detecting.
Update 2
MSRP for Garrett Z-Lynk is about $150, that means that in Europe it will cost around 160-170 EUR and in the rest of the world up to $180. What would be the cost of Minelab ones?