20 Photos Of WW2 Finds That Every Detectorist Wish They Would Find (Amazing Finds, Photos+)
The season has now begun, and maybe it is time to give you diggers some motivation. Yes, now it is time to stand up from your couch, because while you sit here — someone else are digging your finds! But, there is a category of detectorists who don't dig WW2 for different reasons, so with these photos we give greetings to those who can't dig WW2, but would give everything to do. Let's go!
Weapons
Some of the most common finds in the field of fighting are the weapon. Often in the poor preservation of the soil, and of more or less good from reservoirs, lakes and rivers. We do not forget that they used to collect the guns from the fields which lay on the surface and throw it into the water. You can get them with a magnet or a detector for underwater search.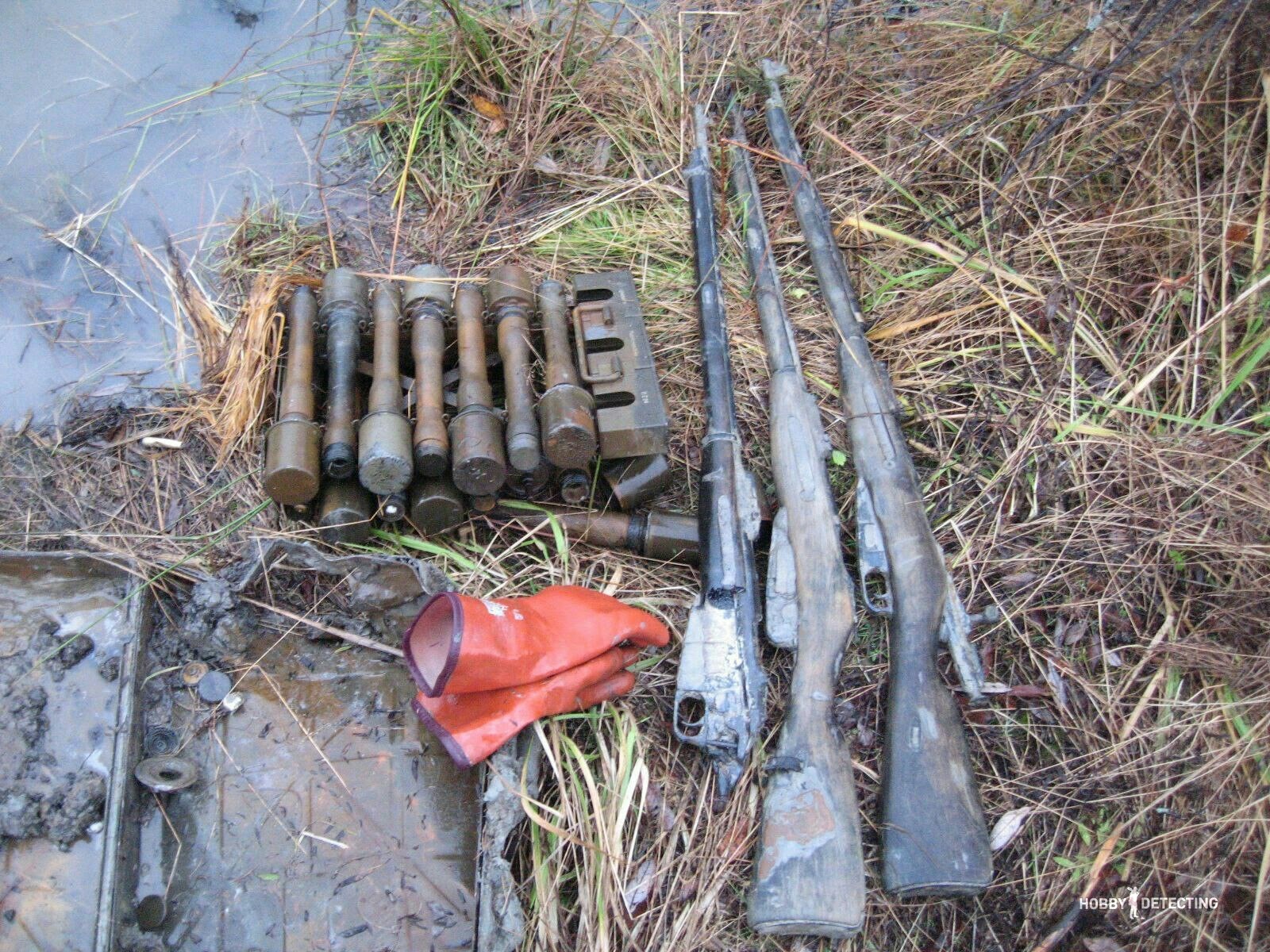 For example, these Mosin rifles in perfect condition and German grenades in the original box – also excellent for a deactivation.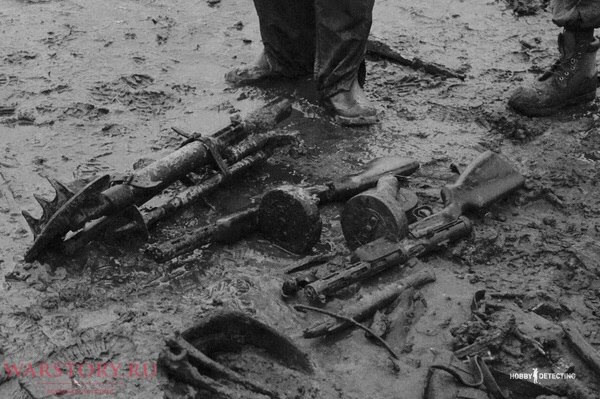 And this is the photo from the more distant 80s and 90s. Some beautiful examples of mortars and two PPD simply pleasing to the eye!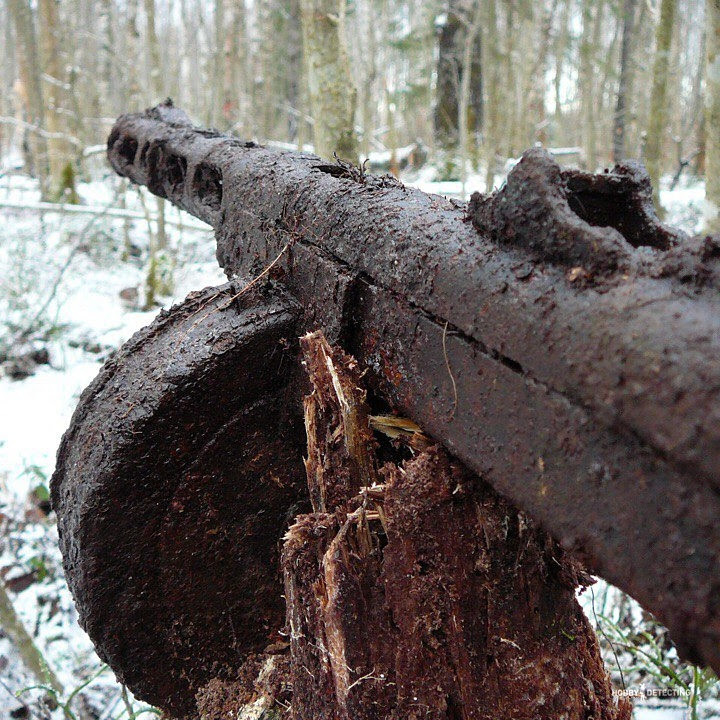 In general, a well-preserved PPSH is uniquely beautiful and interesting!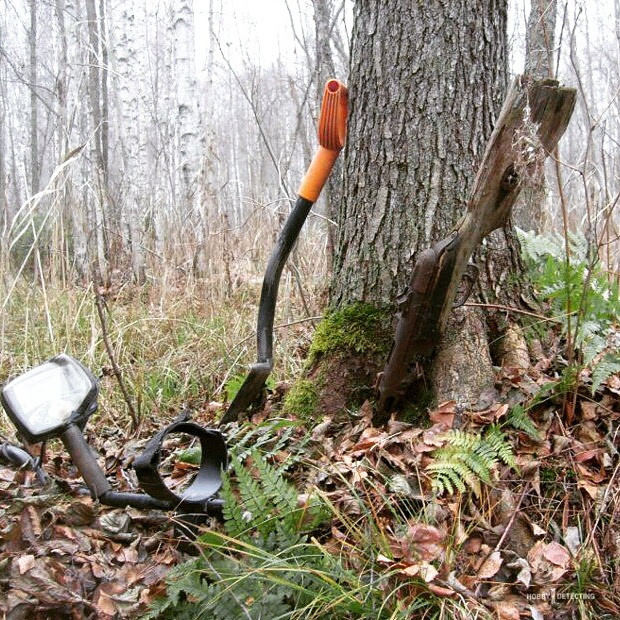 It happens that a gun sometimes can grow into a tree, I once saw a Mauser K98 in a tree, and here we have one more beautiful PPSH!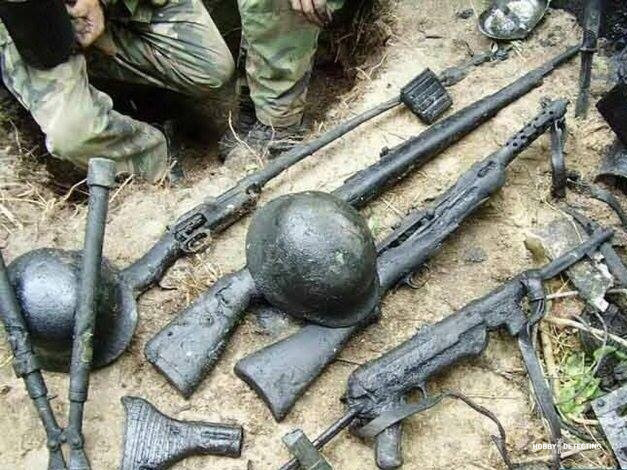 Since the war involved two sides, then sometimes in-between the Soviet small arms you will also find German ones, but less frequently. And the ones that are well preserved – a rarity! They can be made into beautiful deactivate guns, which can cost thousands and thousands of euros (still walking through the fields in search of gold coins?).
Awards
The second category of finds that it would be desirable to find are awards. They rarely are alone in the ground, although sometimes they do. Most often they are found together with the owners. Something which is sad – some careless detectorists may pick the reward and leave the soldiers, which makes it impossible to identify the fighter and find his name, to pass it on to the family and so on. But, nevertheless, the rewards are rare.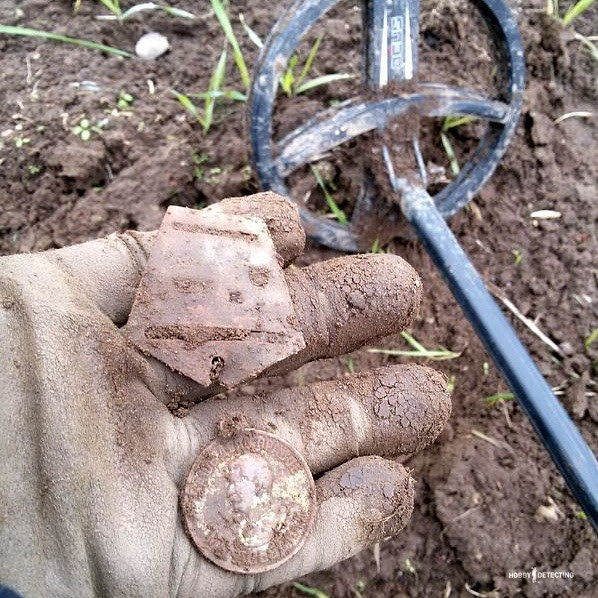 Most likely a post-war medal.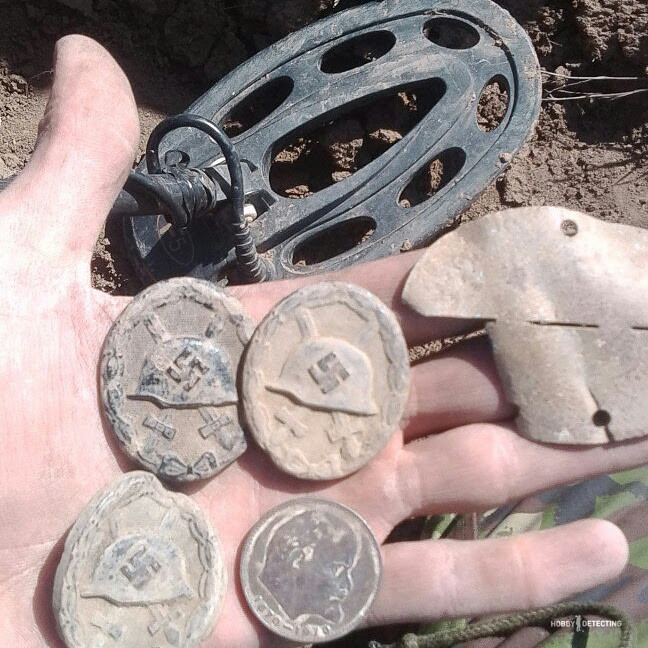 Broken personal dog tag of a Wehrmacht soldier and medals for injury.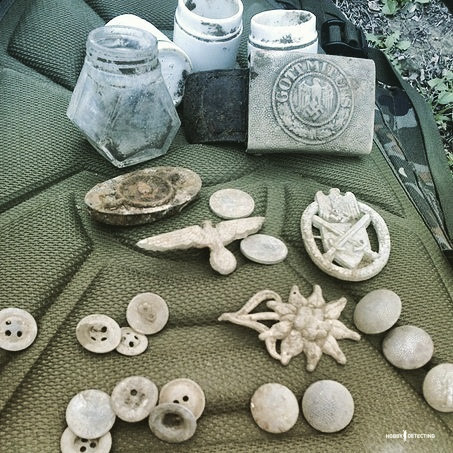 Digging up an "Edelweiss" is always nice and cool!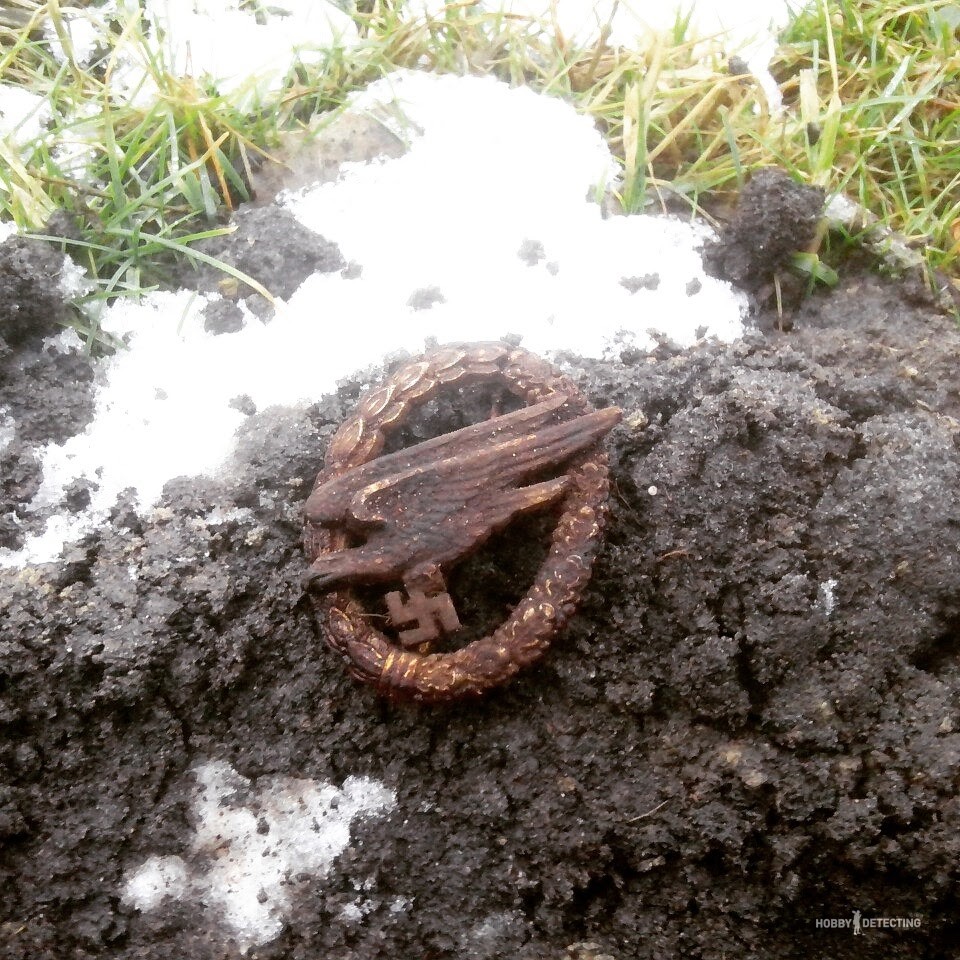 An award of a Luftwaffe paratrooper. Great find and a good condition, and if it still has the bolt on the other side, the price is very high!
Rings
Another category of finds, which I personally like. Rings are also, for the most part, found together with the owner. If there are any initials or any information that helps to identify the soldier, that is great!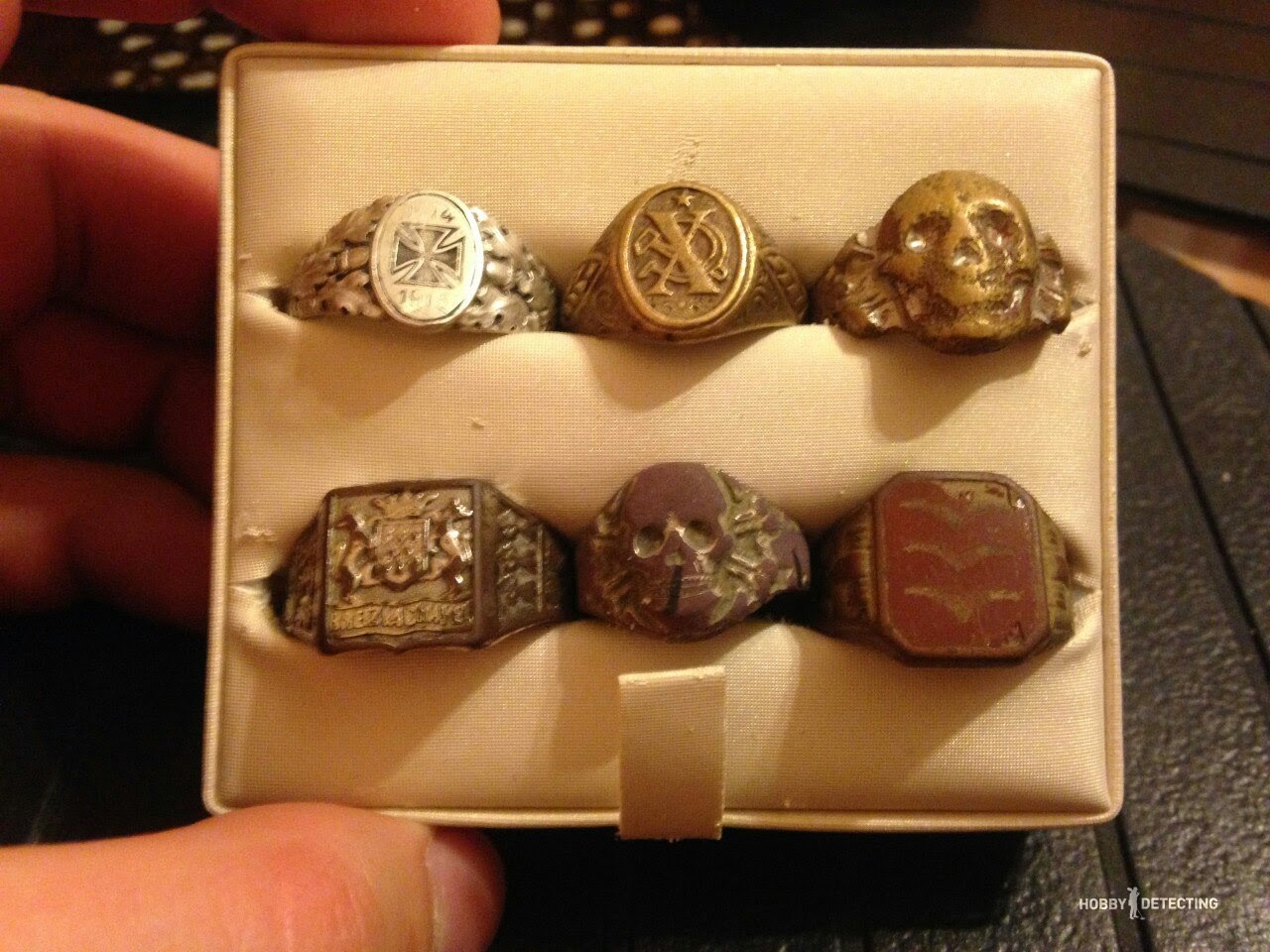 An example – an interesting collection of one fellow detectorist, beautifully packaged and looks great!
Helmets
Helmets are quite a common find. Many experienced diggers don't think that helmets are any interesting so they leave them on the spot of the find or hang them on the nearest tree. They are often taken home by the less fortunate and experienced diggers to "put it on the shelf."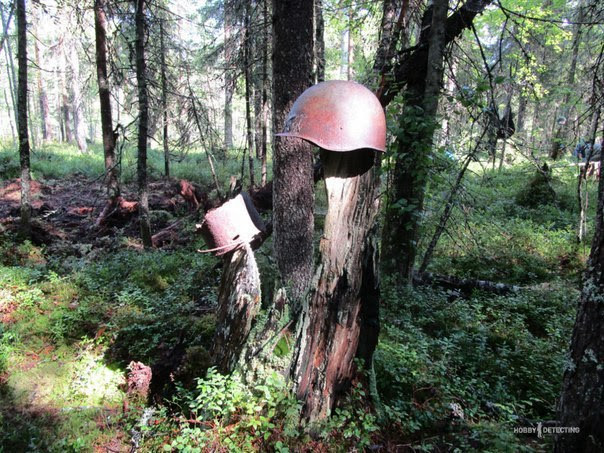 That's about how they hang in the forest. Often helmets are hung up to mark a place of battle (e.g., a height, where there was the battle), in the forest such guidelines help. Here we see the Soviet helmet and next to it an ordinary can.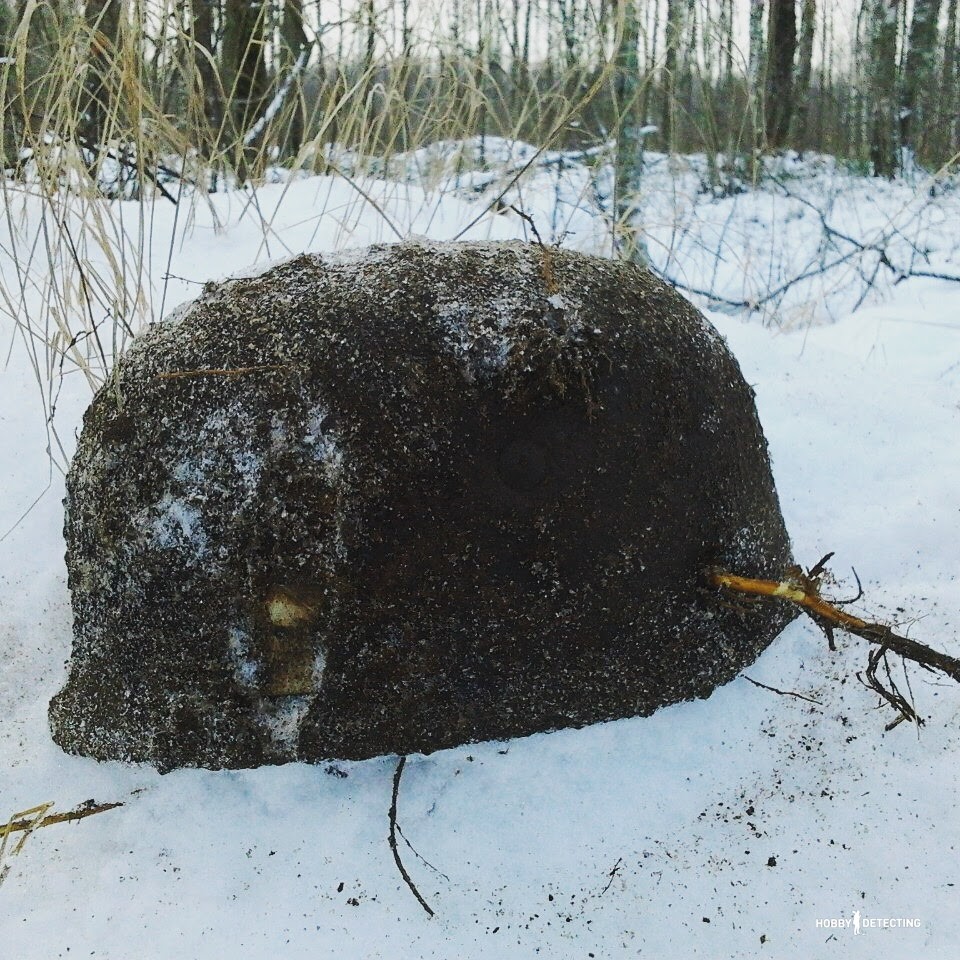 Probably one of the finds that I will never find – a Luftwaffe paratrooper helmet. Great find in those places where these guys messed around.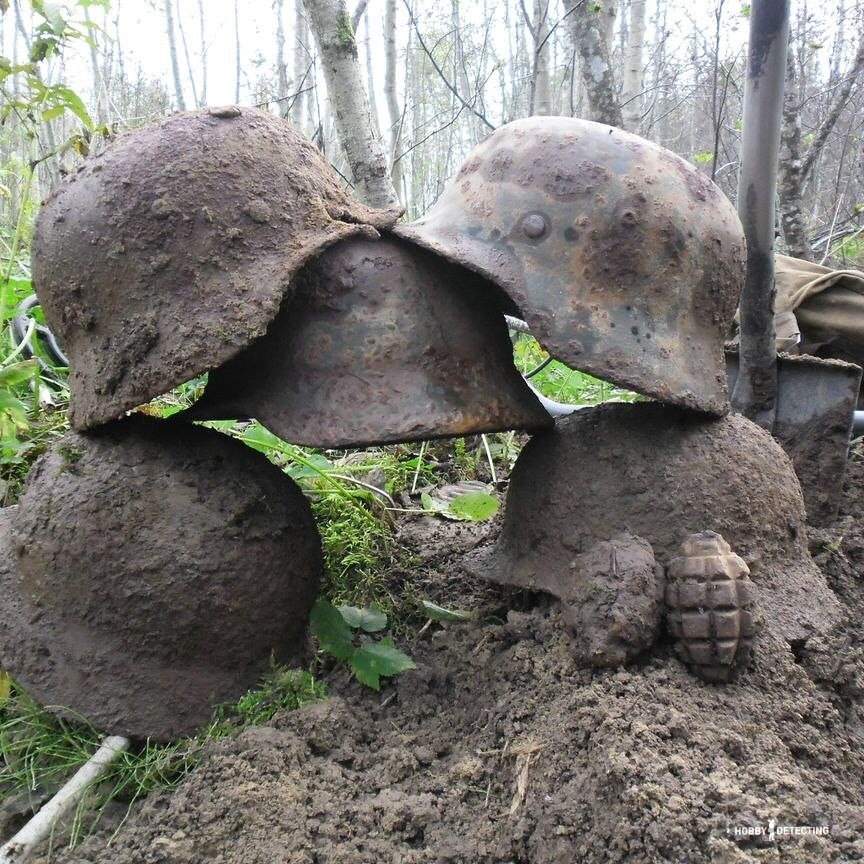 German helmets, and with them a grenade.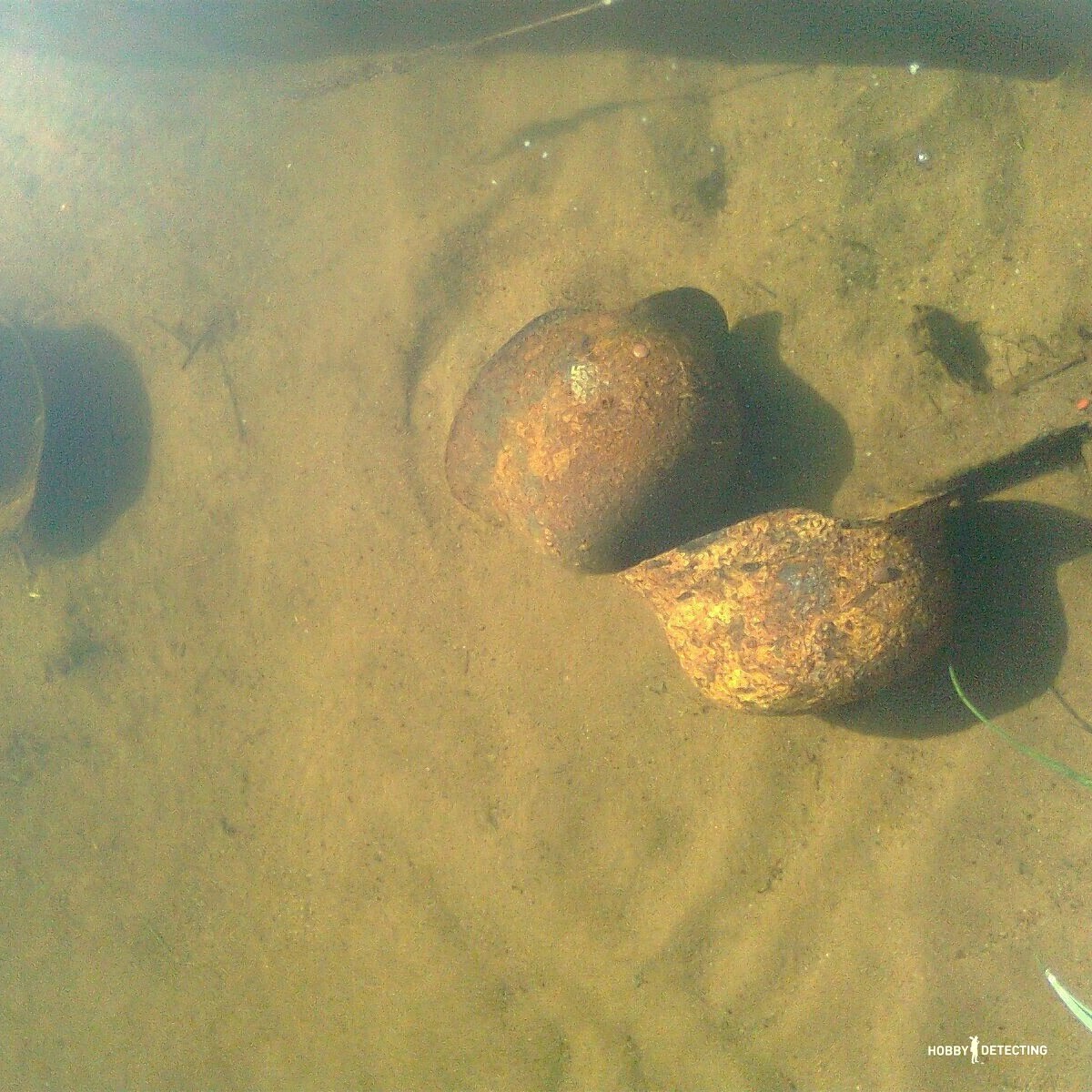 As I said above – they did not only throw their weapons in the water, but also helmets. Do not be too lazy to look under the water.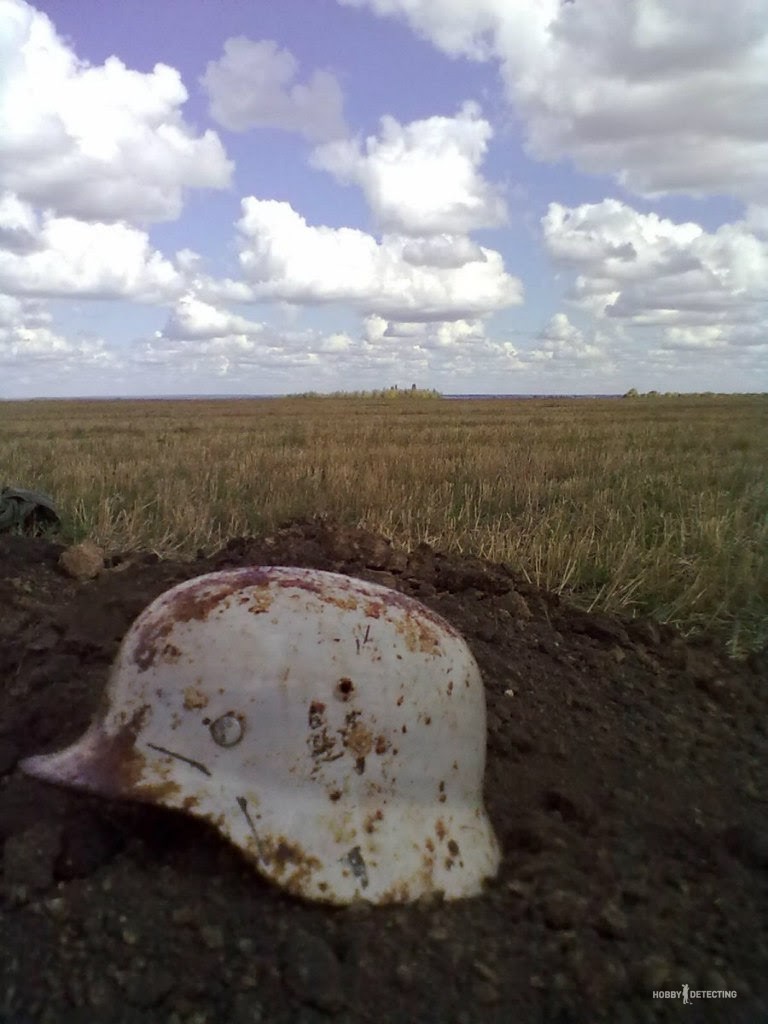 What can decide the value of a German helmet? Three factors: the condition, the colour and the condition/type of the decals. As you can see, this one is in white camouflage.
Shells and explosives
Think that if you came to a place of battle, then the finds will appear by themselves? Most often you will find a lot of different shells, grenades and explosives. Maybe you even will stumble across a 500kg bomb, well, a digger never knows what lies beneath the coil and gives a good signal:))))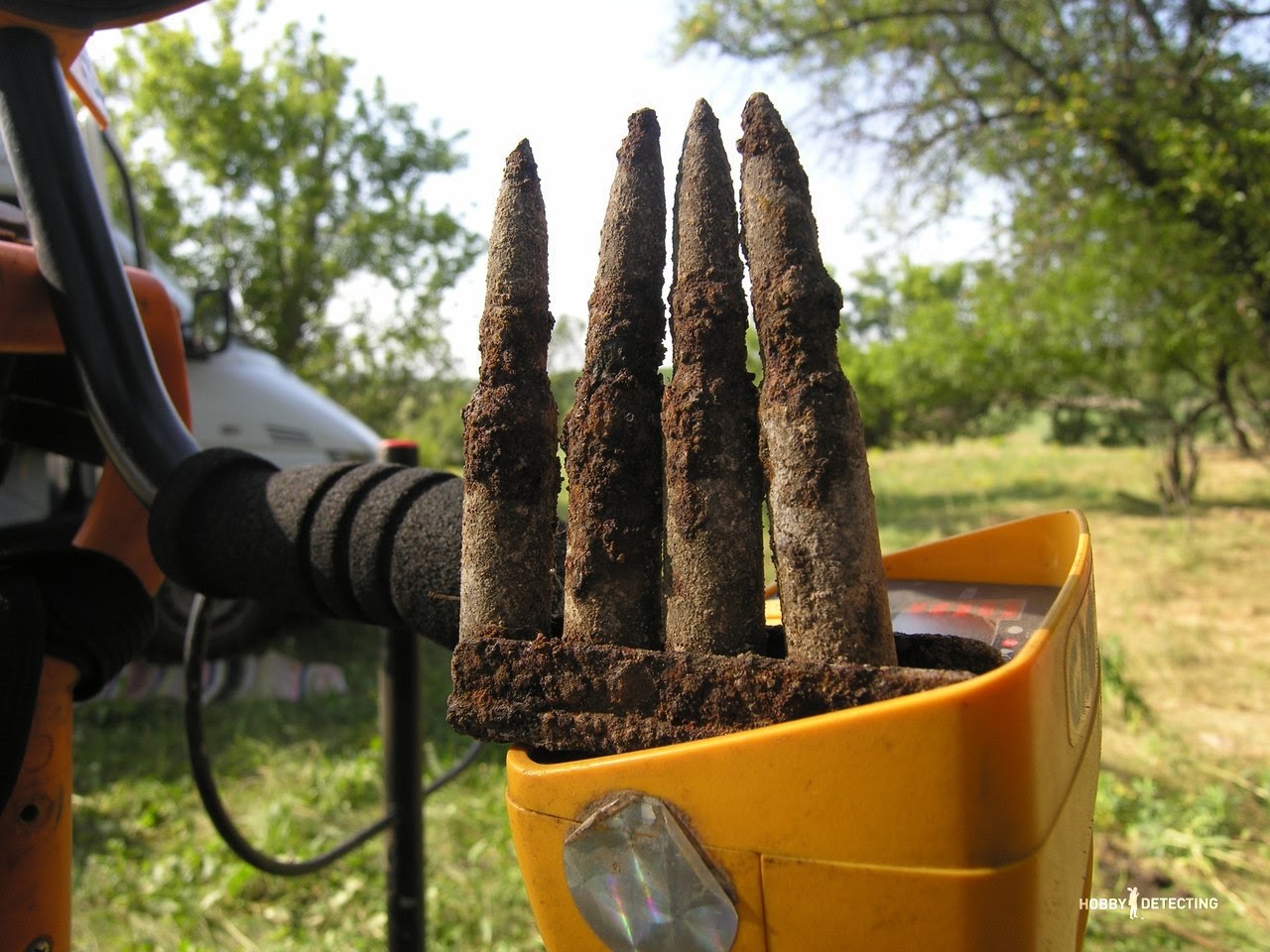 It begins with a few bullets – in bundles, single, and so on. To dig bag of shells is a common thing to do at most of these places.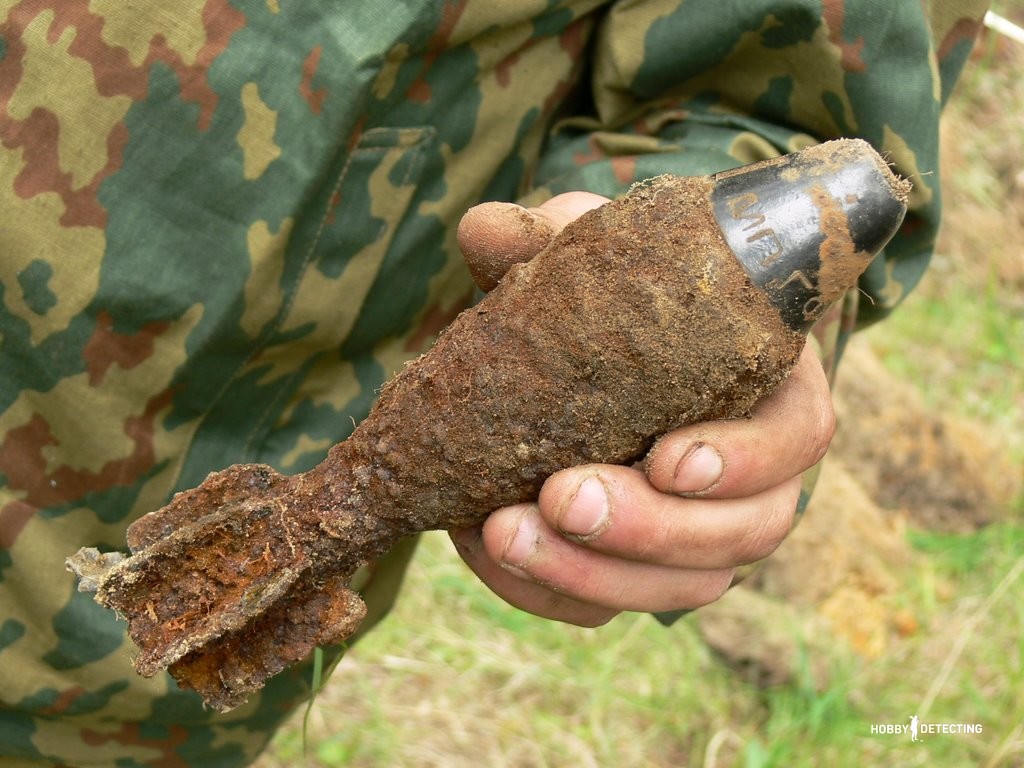 Then there are these more dangerous mortar mines, for example. Who knows for what reason this mine did not explode? Can you identify if this mine has passed through the barrel of the mortar or if it was forgot / lost in the heat of battle? Do not forget about the especially dangerous detonator many mortars have.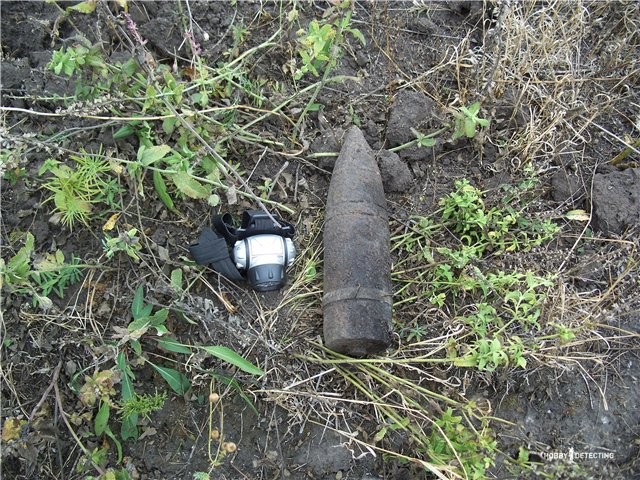 Projectiles (Shells). They are very different – howitzers, antitank shells and from a large number of different pieces of artillery, which rumbled and shook the ground during the war. The artillery preparation during the offensive could last for hours – so a certain percentage of the shells went into the ground without exploding. And your metal detector then gives a good signal on such a find.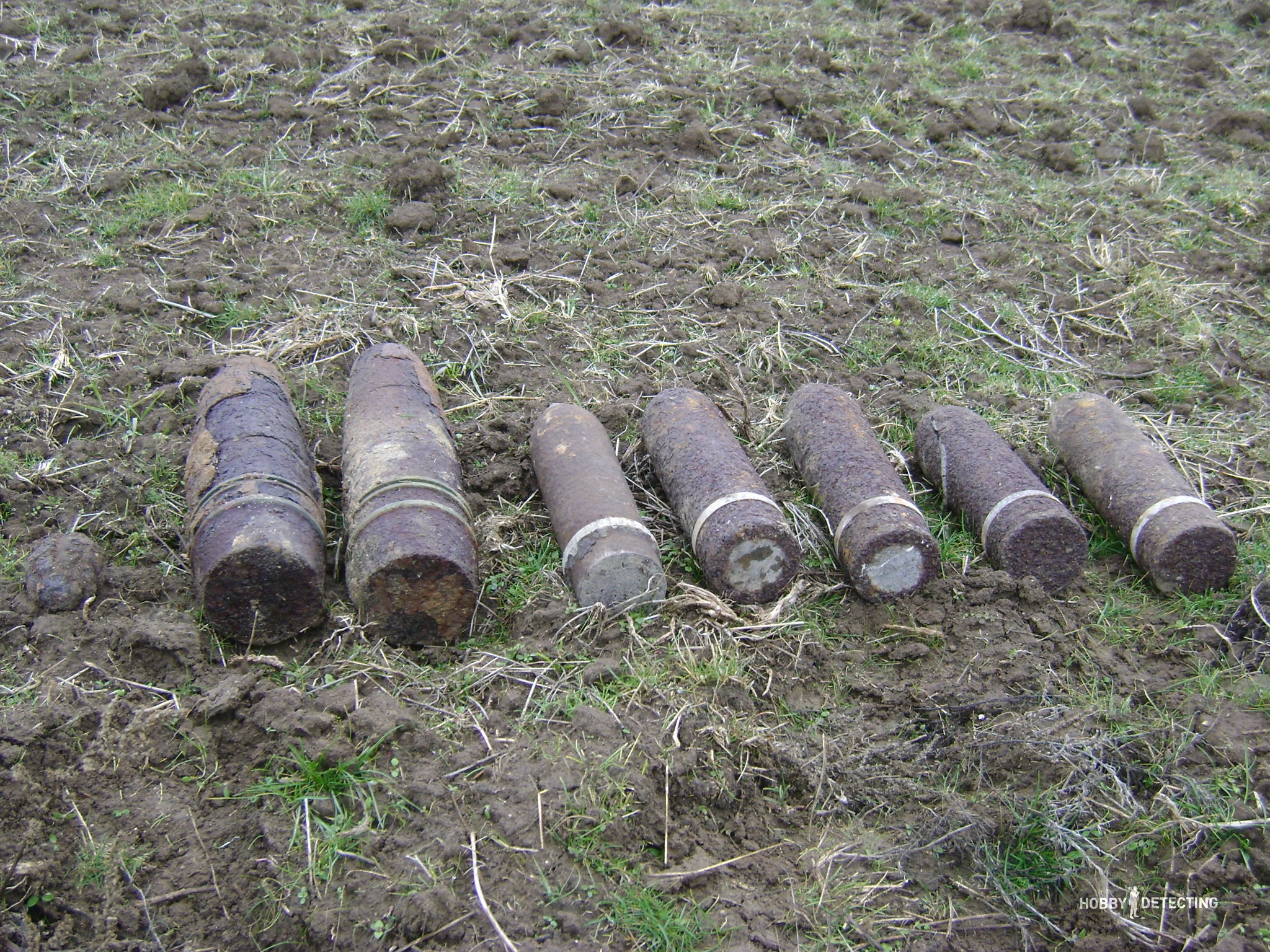 With such things, it is better not to joke around, but call the professionals.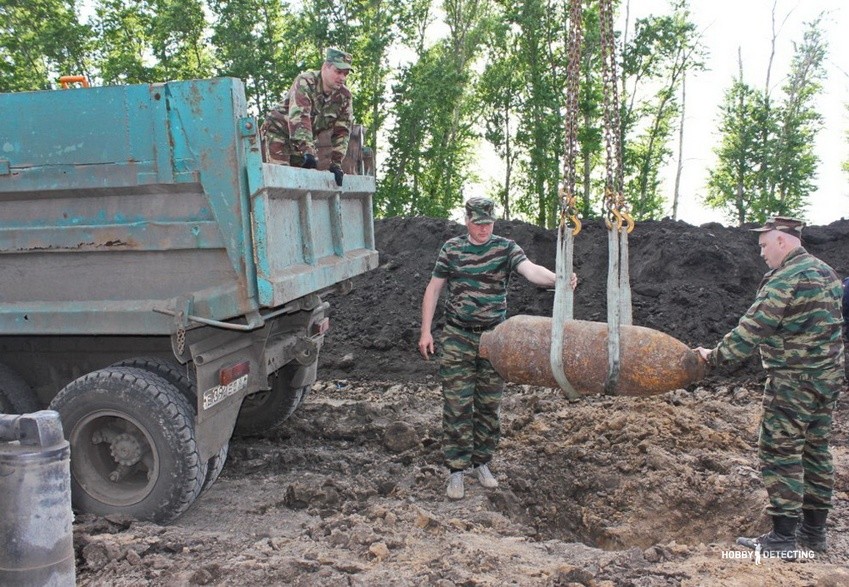 Who's supposed to – they know how to deal with such things. It is strongly discouraged to deal with it yourself.
A short summary
We got to the end? Thank you for your interest and patience!
WW2 detecting is both dangerous and interesting. Everyone does it for their own intentions and reasons, but I would like to comply with a few simple rules:
Respect the fallen – everyone should come back from the war, even after many decades.
Do not scatter different finds everywhere and do not hide shells under the proposed location of a campfire.
Do not mess around with any kinds of explosives.
And to those who follow these minimal rules of WW2 detecting: I wish you to find such finds, and in such numbers!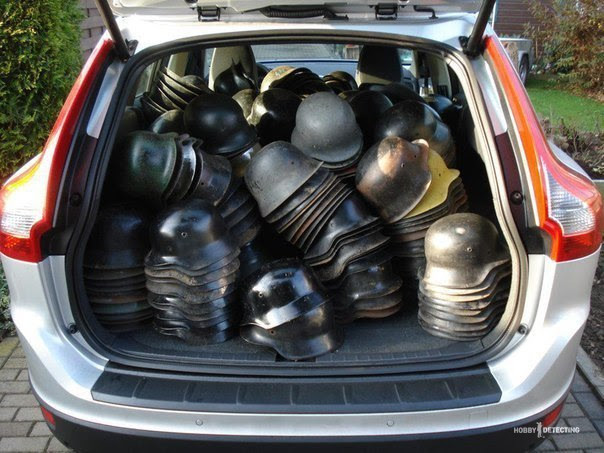 PS – All the photos are not mine, but mostly found on the Internet.
Did you like it? All about WW2 we have here!