SS Shells- Interesting Finds! (Identifying Finds, Photos +)
Among the collectibles of different pieces of World War II, there are people separately collecting everything related to the famous SS. These are often the most valuable and expensive artifacts, because even the buckle on the SS will cost several times more than an ordinary Wehrmacht buckle.
One of the most affordable items are the SS shells, which do not cost too much, but grow in value because they are getting fewer and fewer, and then number of those wishing to get them to their collection is growing.
A bit of history for you:
Since before World War II, the SS was under the control of the Nazi Party organization, they had placed their own orders for SS ammo in a commercial manner. As far as we know, it was released only 3 parties of bullets with 1024 boxes in each party, which can be tracked by the individual stamps on the ammunition:
In 1938 they were produced by the company DWM marked as SS and SS-TV with heavy sS bullets.
in 1939 they were allegedly produced by Polte, with the Platz 33 cartridges / With the markings SS-TV.
At the beginning of the war, the SS already started recieving ammunition on the same line with the Wehrmacht, and after that, the idividual SS markings started disappearing.
Right now there are several markings known:
«DWM 1938 SS»
«DWM 1938 SS-TV»
1939 SS TV Platzpatrone 33
The first variant is more common in all. The second option is a little less common and even more interesting, and the third option isreliably known, but I have never had my hands on one.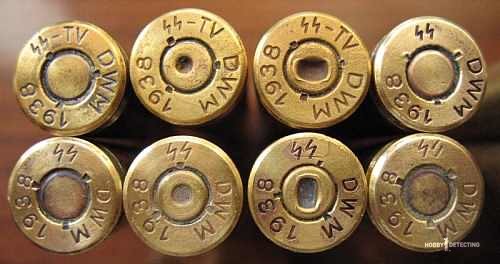 Today we have in our gallery one of the representatives of these cartridges:
In general, this is the usual German 7.92 x 57mm caliber ammunition for rifles Mauser 98K and the machine gun MG-34.
But it differs from the usual ammunition by these markings: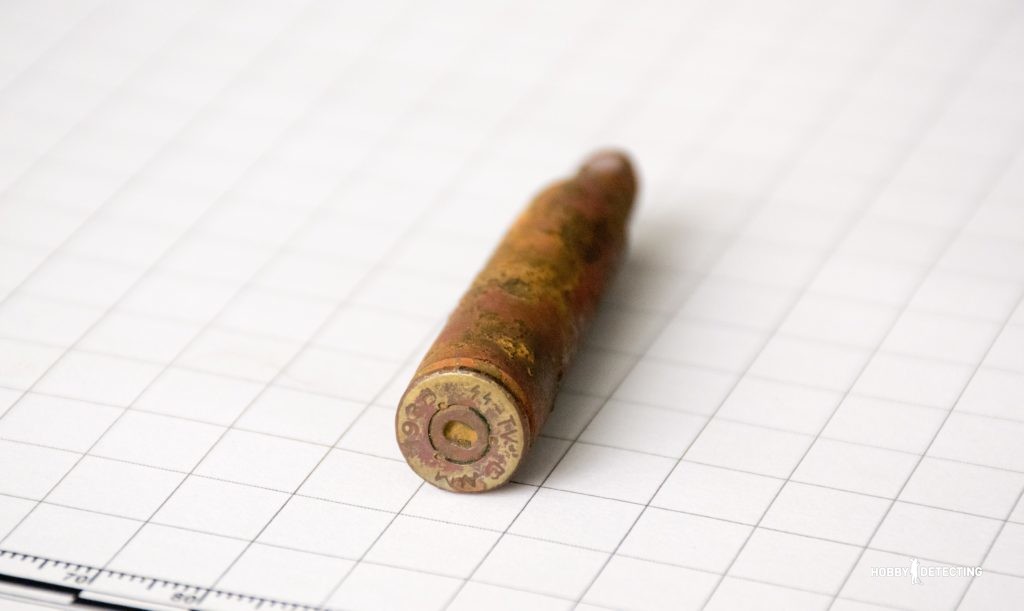 As you can see – a beautiful 1938 DWM SS – TV.
The "TV" version raises many questions – some say that it means Totenkopf-Verbande, referring to the SS division, but this version is questionable, because this bullet is found in places where the Totenkopf did not fight. Others believe that the TV means «Technische Verwaltung», Which means "Technical management", but information on the availability of such a department in the organization of the SS can not be documented. The version with SS-TV (SS TV channel), seems to me like more correct;) In 1936, Hitler did after all start the broadcasting of the Olympic Games.
In any case, this item is interesting, and even if just barely, you could earn back your detctor:) Look under your feet, and do not be lazy to pick up these finds. Good luck detecting!
Are you trying to identify a find? Post it in the comments, or go to our section – "Identifying Finds"!