Makro Racer 2 – Review of the kit and first impressions
When there was a new metal detector released by the Turkish company Makro, the Makro Racer I reacted skeptically to this. How many metal detector manufacturers are there? Probably just another random manufacturer. But a few months later it began to appear interesting reviews, videos and photo reports about it and I thought about bying the Makro Racer. However, a year later, the company released a new version – Makro Racer 2, I read about the changes, looked at the photos and decided that I wanted to buy it. The updated version seemed more interesting.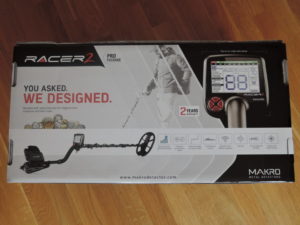 Of course i wanted a more serious detector with all the options (except wireless headphones), so the choice fell on the pro package.
Included was a lot of useful things: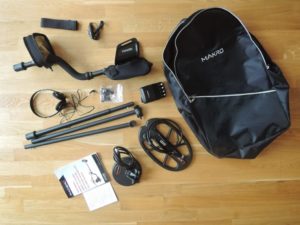 Two lower rods, Koss headphones, the standard and the "sniper" coil, an extra set of bolts for the coils, batteries, battery charger, car charger (for the batteries), backpack and covers for the display and the handle. I would like to stop a bit and tell you about the backpack – I think it is the most comfortable backpack to a metal detector, which ever has been made. Look at the backpacks from other manufacturers – they are small and uncomfortable, it is hard to carry the device in them because there is small space. In this backpack I can fit all in without problems, everything that I need for a trip, except perhaps a shovel.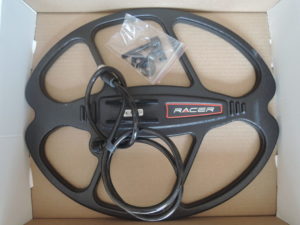 Of course I needed to buy large coil, the RC40DD. A normal 15.5 × 13 DD coil that fits for two models – Racer and Racer 2.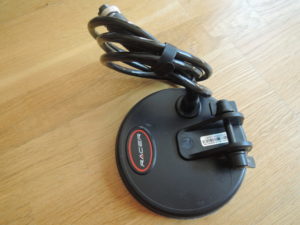 A small coil, the "sniper" RC13 DD was already in the kit. It is especially suitable for "trashy" areas.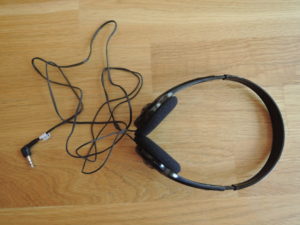 I do not especially use headphones, i like to listen to all what is going on around and behind me, but in the kit there is usually included standard headphones and Makro was no exception in this case. Nice headphones by Koss. They are good, but for our search conditions it is not suitable. They are great for those who walk and dig coins on grass fields, where there is no dirt, everything is clean, and ideal conditions. Koss is an American corporation that produces fairly high-quality headphones, so you can trust this brand.
Well, the overall result –  everything was packed well and the kitwas rather nice. But is it worth the money? – That is up to you to decide, given that i had to buy another coil. But was that so necessary?
Want to read more about the Makro racer 2? Simply click here!