Gold find with the CORS Giant coil! (Photo, review+)
Hello fellow detectorists!
In this article im going to continue my subject on the CORS Giant coil. What has impressed me even more about this coil is its ability to detect very small items. I have been on a few trips with this coil now, and i have muliple times found very small objects. At first when i got the coil i tought that it would detect small objects very badly compared to the standard coil, but it works just as good, if not better;) A little downside i have found with this coil is its weight. It is not very heavy, but after some hours of detecting you will notice that it is almost 1 kg heavy. But after some trips with it i have gotten used to it.
Some of you probably are sitting there and thinking: "What do i need a big coil for? I dont dig that deep anyway" Well here is something for you: If you have a big coil it covers a larger area when you are detecting. But will this help? Here is a story for you about exactly that:
Very recently i decided to go on a little detecting trip to a nearby place by the beach with my CORS Giant coil. me and multiple other detectorists i know has been detecting in this area a lot of times, but i dectded to try the luck anyways. I got there, set up my detector and started searching. The first half hour i only found one or two coins from the 80's, and a lot of trash, but as a good detectorist i never gave up. Then i got a good and stable signal at 77 on my Garett AT Pro. I thought to myself that this maybe was another bottle cap, as some of them give a signal at about 72-75 on my AT Pro. And since i had been finding exactly this in the last half hour my suspicions were even bigger. But something told me to dig it up anyways, as i am that kind that digs every signal. (And now i am happy for that) I dug agound 10 cm and picked something up. At first i couldn't believe my eyes and i thought that this was a brass or a bronze ring (because it was a bit dirty). But then i saw the stamp saying 18k (for 18 karat), and i got a big smile on my face.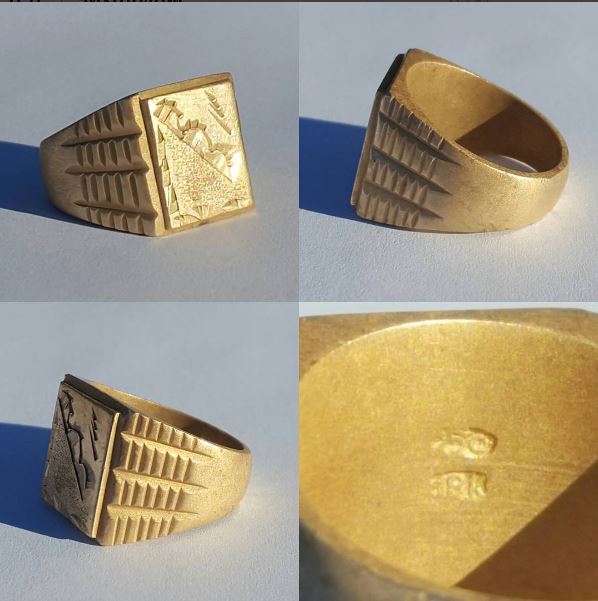 After i got home and washed it, all my suspicions were gone, this was indeed a beautiful golden ring:) On the inside of the ring it says 18k (for 18 karat), and 750 (for the purity of the gold).
So the morale of this story is: always dig all signals, you will not regret it after such a find. And was this find made because of the big coil? I have searched on exactly that field with my standard coil before, and i know many other detectorists have been searching in this area. So was this pure luck, or also because of the coil? What do you think?
Want to read more about CORS coils? Click here!