Garrett AT PRO or Minelab X-Terra 705? A comparison of the metal detectors
Very often, diggers are asking me the same question – which detector is best: Garrett AT PRO or Minelab X-Terra 705? I have long tried to find the cons and pros of the two most popular metal detectors and all comprehension took me a long time. I went with the Garrett AT PRO, as many others went with the Minelab – X-Terra 705 and so I think it is time to share this with you, since you're reading this post, so you too are having this question and maybe facing a dilemma. So here you go!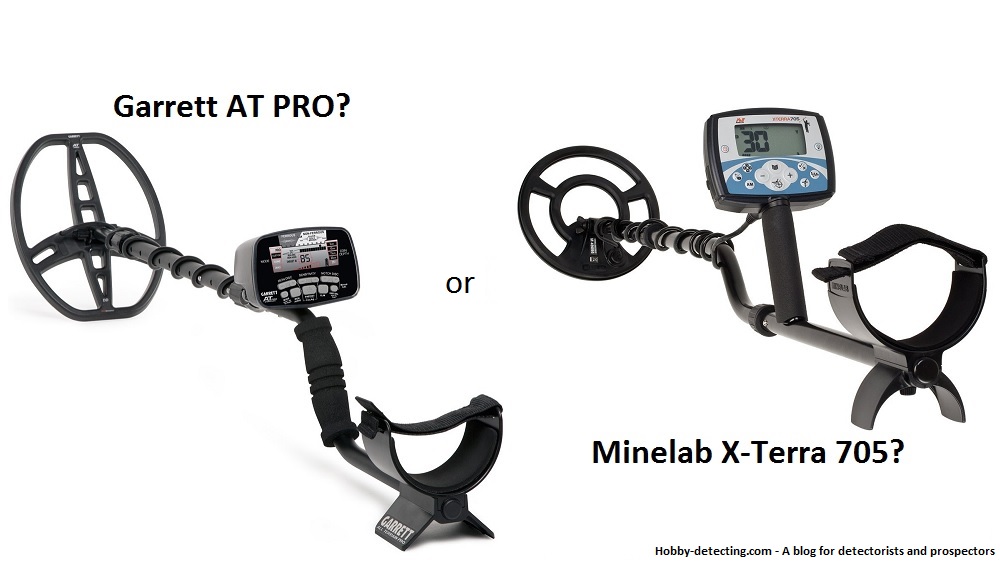 Construction of the metal detectors
By form factor the devices are very similar – a standard S-shaped bar, but the location of the control block is different – X-Terra has it on the handle and the AT has it screwed onto the rod. Regarding the assembly – the X-Terra is enough to assemble one time, I even screwed once and for all the block head to the handle, but it can be disassembled if necessary. This comes down to what you prefer.
Big bonus – the AT PRO is water-resistant to 3 meters. X-Terra requires a cover, therefore it is better to buy this immediately after the purchase.
Armrests
I liked the arms of both models, something I cannot say specifically. You can customize the X-Terras armrests placement more than the AT PROs. Is this an advantage or disadvantage? I do not know, I have had no problems with it.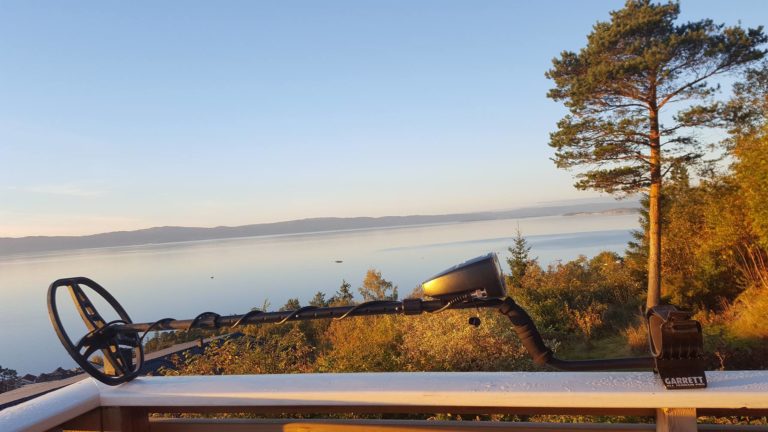 Rod Assembly
Rods are assembled on the devices in different ways. X-Terra can be assembled by tightening the clamps until it stops (do not twist the longer), then AT PRO can easily twist and break.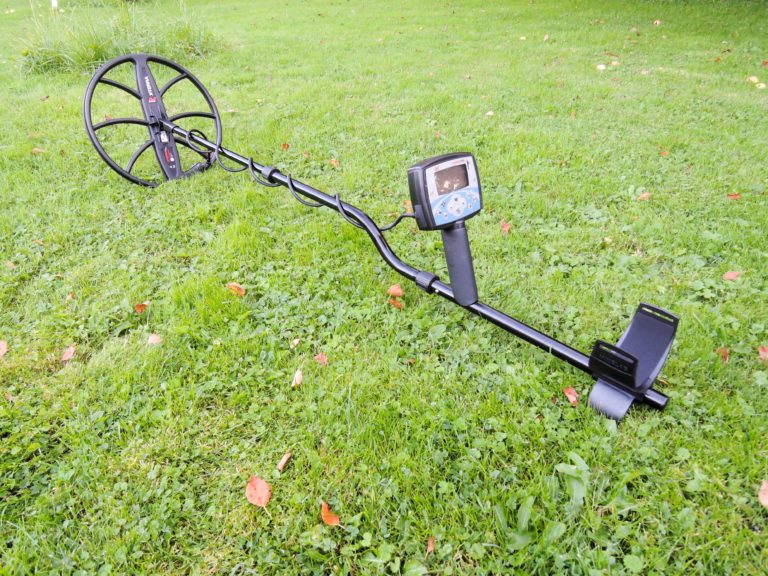 Weight of the metal detectors
Total weight and balancing of the metal detectors is quite good. AT PRO is fairly well balanced, with it you won't feel tired after a few hours of detecting (depends on the coil also of course). With X-Terra I start to get a little tired after a couple of hours, I think that the more physically weak person will see this as a great disadvantage.
Location of the buttons
It is not a very important thing, but I'll write some about it. It does not matter because the only button, which is often required in the field and directly during the detecting is the Pinpoint mode. As for the other buttons, I use one hand to adjust the AT PRO (although there is not much to adjust), and I use two hands to adjust the X-Terra (the second hand is to hold the block, so I was more comfortable). In terms of options written below the X-Terra is less likely to accidentally turn off and the backlight button is taken out separately, yes, about the lighting – the Garrett simply does not have it, so digging in the dark is then hard. You have to listen to the volume. At the X-Terra you can adjust the volume and the backlight. An important plus in my opinion.
Battery life
Maybe a trifle, but very important. Pretty interesting thing, I noticed that when AT Pro fell several bars at the battery, the unit began to work quieter and it seemed to me that I started to miss finds because of this silence, so I replaced the batteries with new ones and the problem was solved. With the X-Terra the situation is reversed – the batteries are fulfilled to the very end without loss of power. If you know please tell me how this effect is called and what it leads to.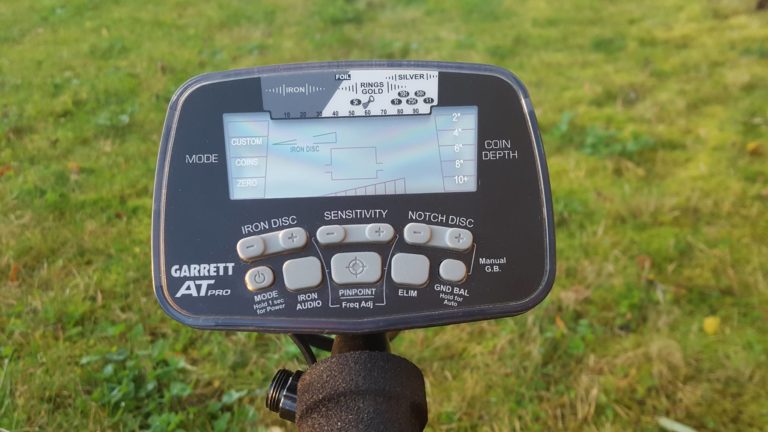 Setup and function of metal detectors
Modes
AT Pro works in two modes – STD and PRO. Why do you need STD mode, I don't understand, because there is no practical benefit from it. If you position the STD mode as a mode for beginners, I can assure you that it is better to start immediately with the PRO mode. The Discriminant can be kept at a value of 40, but why so much I do not know. There are two preset and one user program, but the preset programs are more or less unnecessary, it is easier once to set up your own and go detecting – it is called a custom setting mode (CUSTOM), and it is saved when you turn off the detector, in contrast to the other modes. If you make changes on them, it will not be saved.
The X-Terra has only two modes – coin / relic and GEO. No conditions for very beginners here, the device setup is already bit difficult, you have to carefully read the manual. You need to study the X-Terra a little bit longer. The menu in X-Terra has no text and that is good, because it requires no translation. After several digs with the device, the menu gets easy to use, because everything is already configured.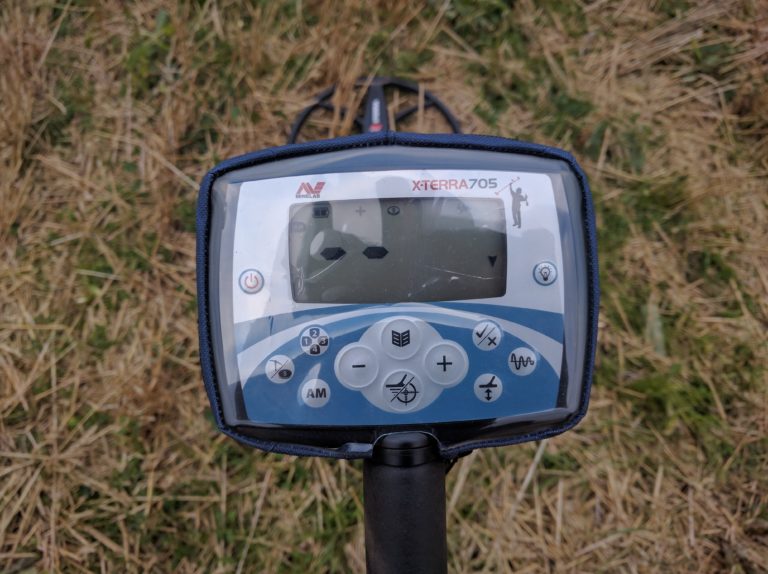 Ground Balance – Balance at Garrett has sadly only manual mode, at comparison the X-Terra has automatic ground tracking mode, and it is a very useful feature, it will not fall in depth when you are changing the type of soil. Great advantage.
Prospecting Mode in X-Terra 705
This mode is designed for small-scale miners, who are looking for gold and trowel Of course, with such a mode it is difficult to run across the field, but for searching thru "empty" fields it is very good. This is especially good for small coins – "flakes", medieval silver and other little things.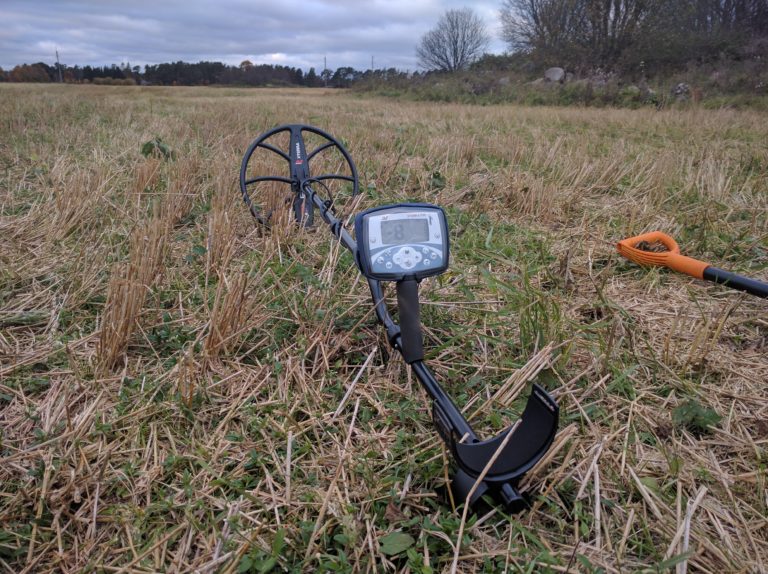 Discrimination
I spent a lot of time working with these two devices, and, to be honest, I had the AT PRO first. On AT PRO discrimination is just trying to turn off the sound of black metal and it often don't work so well – periodically I hear tinkling and small beeps. This does not prevent detecting of course, but sometimes it's misleading. The situation is better with the X-Terra, they have different signals from AT PRO, the black segment is from -8 to -2, and then from 2 to 48 and is color signals and if the discrimination is set to -2, then going across the field we hear … silence! Sometimes even you begin to think whether the unit is on? You check the device on the shovel, and hear the sound of a color signal and you realize that everything is working well. Among many metal detectors which I dug with the X-Terras has the best job discrimination.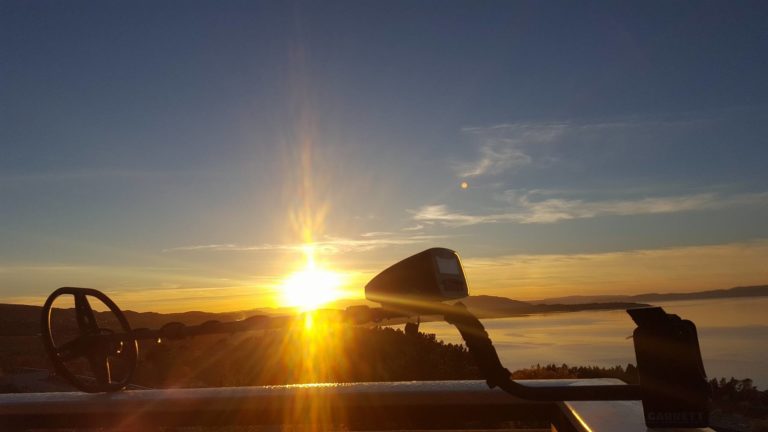 Detection of metals
Overall, both devices recognize different metals equally well, I would not say that there is any serious difference. At Garrett segments range from 0 to 99, because sometimes when the signal is a little deeper I look at the and think, should I dig or not? With X-Terra everything was simpler- from 42-44 and I understand that there is a large copper imperial coin there. From the sound, too, it's often clear what you have under the coil. As for the different tests, such as nails and coin in the ground, everything happens differently, and the tests themselves can be easily found on YouTube, there are hundreds of them – fake and real. ?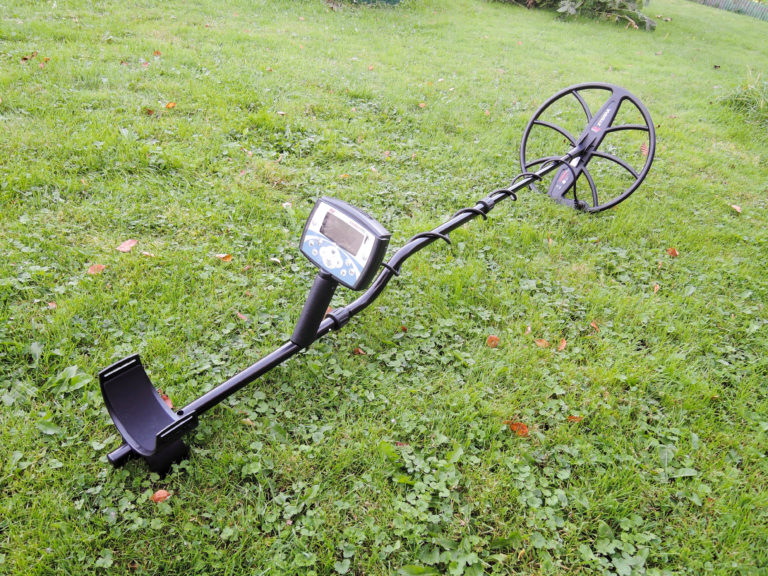 Depth of detection
The most important aspect of the question – who is deeper? During digs I noted that the two devices have different findings, but I have never found items deeper than 40 cm. And this is quite a lot and the item was bigger than the usual coins in half cm in diameter. Large objects I have found deeper, but I was too lazy to dig them, but in vain – maybe it would have been a treasure but is it worth digging every such signal? Both devices are scanning deeply enough to bring the findings, but X-Terra in GEO mode, brings more coins where AT Pro just do not see it.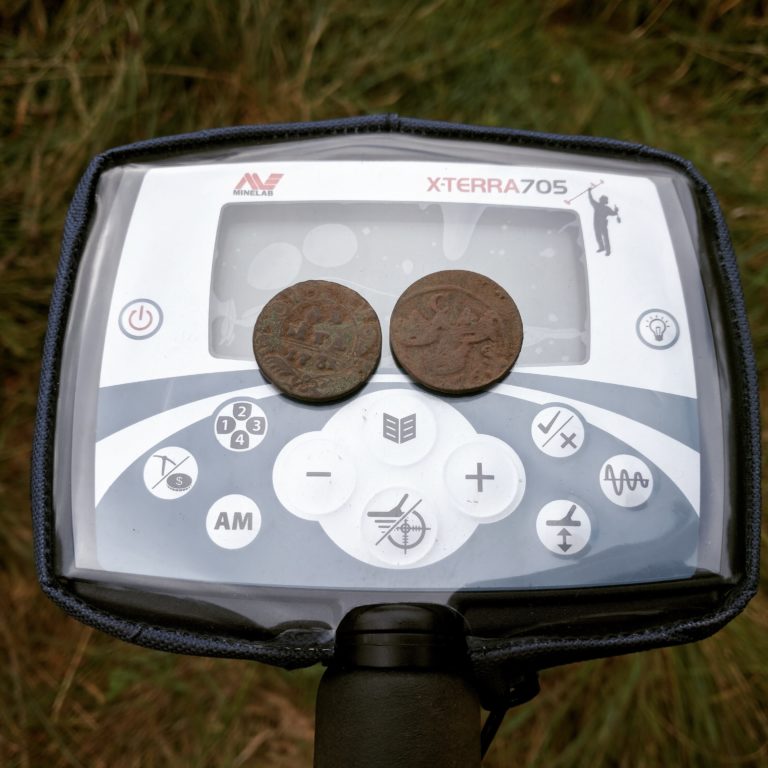 AT PRO always works only on one frequency, if you need a higher frequency, you will have to take the other detector – AT GOLD (frequency above) or the detector from another manufacturer with a frequency of 3 or 7 kHz. With the X-Terra you can choose the frequency (3 kHz, 7.5 kHz and 18.5 kHz), especially if you purchase an additional coil, and then the unit will work better. Each frequency has its own advantage and searching using different frequencies will always be effective.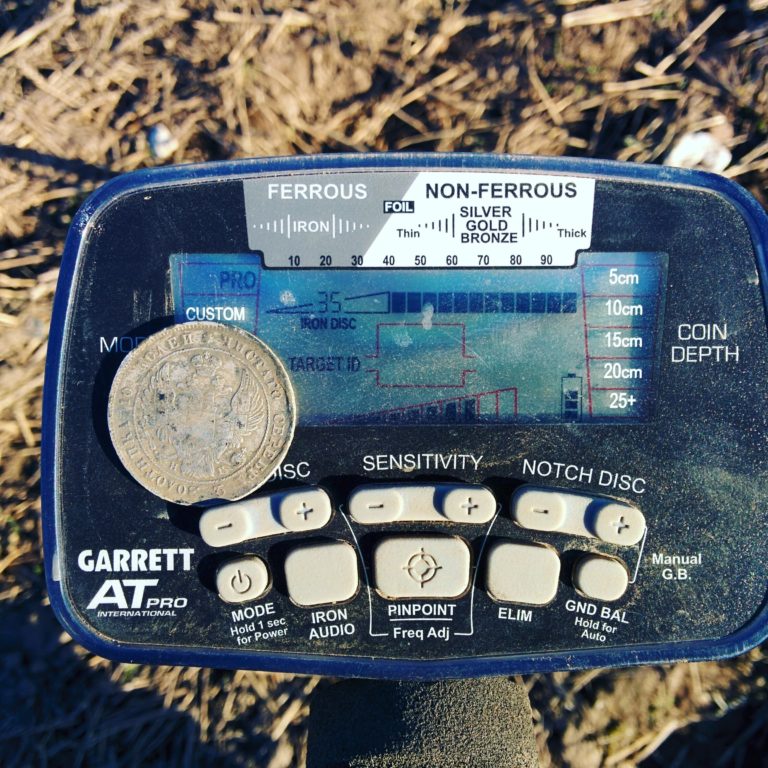 Result and comparison – who is better? Garrett AT PRO or X-Terra 705?
Both devices are interesting and bring the findings. If you need a good device for river and lake beaches – AT PRO will be preferred due to its waterproof up to 3 meters, it will be possible to swim and not worry about the device on the sea beach and in the water. It also brings more findings in the field and in other places, but be aware that you can always collect more coins from the field with the device on a different frequency. If you need a device for detecting the war and the old days, if you want to work on the result, and to engage in professional digging, the X-Terra will be preferred, but will require at least a cover on the block, just in case, and you will have to re-buy additional coils with three frequencies.
You can read more about the detectors here: on Garrett AT PRO, I collect all the information here and on the Minelab X-Terra 705 here. Happy reading and good finds to you all!