First look at the Nokta Fors Gold Plus (photos+)
Today we have a product from 2015 – Nokta Fors Gold Plus from the Turkish manufacturer of metal detectors, Nokta. This device is a professional detector for finding gold. Let's look what's inside?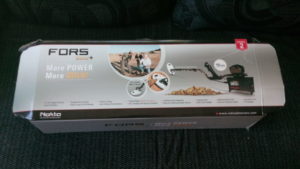 Model features
| | |
| --- | --- |
| Manufacturer: | Nokta (Turkey) |
| Model: | Fors Gold Plus |
| Search modes: | 3 programs |
| Display: | yes |
| Technologies: | VLF |
| Frequency | 19 kHz |
| VDI / Digital The purpose-ID :: | yes |
| Manual ground balance: | yes |
| Automatic Ground Balance: | yes |
| Device noise reduction: | No |
| Sound, tones: | 5 |
| Volume control: | yes |
| Pinpointer: | yes |
| Supporting headphones: | yes |
| | |
| | |
| --- | --- |
| Search coil: | Nokta 10.5 × 5.5 DD (FGP26) |
| Batteries: | 4x AA |
| Weight: | 1.8 kg |
| Length (min / max): | 125-150 cm |

Efficient, simple, reliable and inexpensive. All these qualities the Nokta Fors Gold Plus has, and it's not just ads.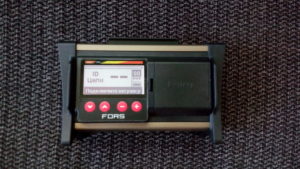 Simple and intuitive operation, and the availability of 10 languages, including English language, makes device configuration understandable even for beginners. The kit is supplied with 4 AA batteries (non-rechargeable), and consequently of intensive use of this device will result in frequent change of batteries. It would have been better if they included rechargeable batteries and a charger in the kit, but these are just little things.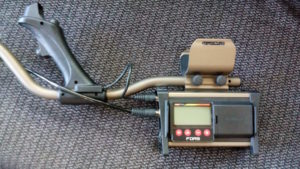 Unfortunately, the equipment does not come in a protective cover, which would protect the device. For example, when searching on the beach, one needs to be extremely careful without cover so the unit does not get sand in it.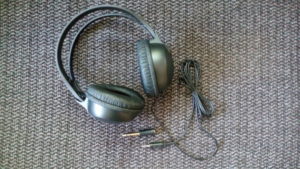 Very comfortable large wired headphones from Philips, a popular company, SHP model 1900. Among the main advantages, tjhere can be noted soft pads that completely cover the ear, you'll not hear other sounds. They fit perfectly, if it's noisy, such as for example a strong wind.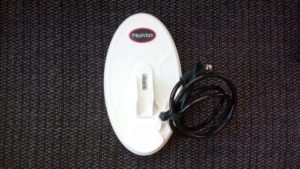 In the kit there are supplied 3 waterproof coils. To all the coils there are included washers and screws. Here is the first coil, FGP26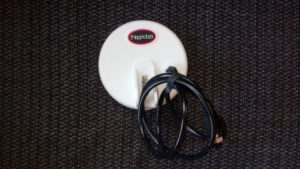 Here is the second small coil, sniper FGP13. A good coil for the "sensitive" operations.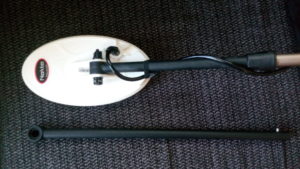 And here is the third coil, Nokta 10.5 × 5.5 DD (FGP26). Also included is an additional lower stem. This is very useful if you are using two coils, so you do not have to change coils on the stem.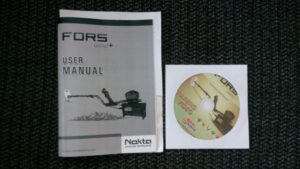 Instructions, product description and a CD with a training video.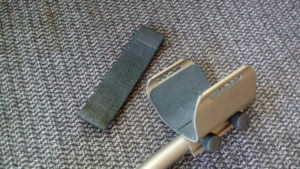 In the kit you get a light, perfectly balanced handle with a strap. The strap looked small at first, even with my small hands push through the hand strap was rather difficult, not to mention, if during the dig you have to pull your hand out of the strap 100 times a day, so I took it off.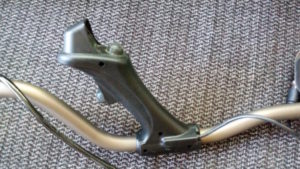 The handle itself is very ergonomic and less functional. It has a small digital display with backlight, showing the target ID or the depth of the object.
Regarding the buttons, there are two of them, the top is for soil settings, and the bottom button is to check the depth of the found object. This option shows often a false depth of the object, I understand that it is affected by many factors, but still would like to improve the accuracy, then it would be a great option.
Also on the handle has a flashlight switch, which is mounted directly to the handle. Excellent and very convenient solution for searching in the dark, though the flashlight uses much power, but it is enough if you have forgotten the basic flashlight at home.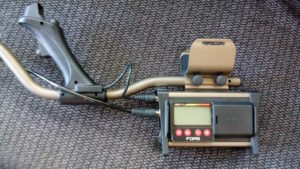 Metal Nokta Fors Gold Plus assembled.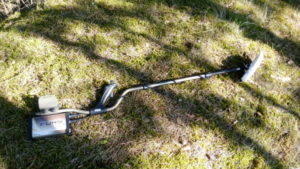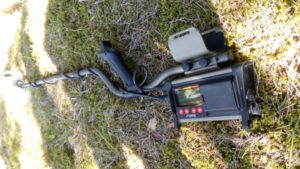 Well, and here is the sum-up – all is well packed and the kit fairly big, although – some little things like a protective cover for the coil is missing. But in general, the device is very interesting.